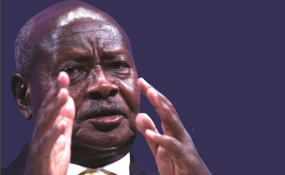 Photo: The Independent
By Sulaiman Kakaire
As the fight against lifting of presidential age limits grinds on and shapes into what promises to be bruising battles ahead, some opposition MPs have come under suspicion of working against their colleagues.
Informed sources say almost the same sort of mistrust troubling the ruling party, is creeping into the ranks of those opposed to Igara West MP Raphael Magyezi's constitutional amendment bill (no.2), which seeks to scrap the 35 and 75-year presidential age limits.
"The thinking amongst members is that there are some of us who are acting as links for the president... Their brief is to inform the president or his agents on whatever development happens or what the group intends to do. This sort of mistrust is dividing us as members," said a source privy to the pro-age limit campaign task force.
Sources say the mistrust came to the fore during a meeting held before the MPs were suspended and violently evicted from parliament on September 27 before the Magyezi bill was introduced into the House. Kampala Central MP Muhammad Nsereko reportedly accused a female colleague of recording what he was saying during that meeting.
According to the source, who attended the meeting, Nsereko said: "[the lady] recorded me or perhaps the whole meeting. I was able to discover this because my phone has got an application or enhancement that would detect that I am being recorded within the surrounding and it picks the identity of a phone or device recording."
Other sources at this meeting reveal that the accused individual was so outraged, a hot exchange ensued. Matters were saved from degenerating further by the intervention of Ibrahim Ssemujju Nganda, the Kira Municipality MP and chief opposition whip.
"If it was not for Hon Ssemujju to calm the situation, the two were almost closing-in on each other and could have become physical," the source said.
By press time, The Observer had failed to reach the female individual for comment; however, Nsereko described these revelations as old news.
"What is the value addition of the story? Who does it benefit? It is diversionary; you should not write things that are going to polarise us," Nsereko said.
Ssemujju neither denied nor confirmed what happened in an interview with The Observer.
"I cannot give any comment about that. First call them and find out what happened, then come for my views," he said
COMPLICATES PLANNING
That incident has since had a ripple effect on planning and organisation within the anti-age limit campaigners.
"This is why there was no clear approach on what to do after the suspension. There were some of us who felt like fighting back was the right approach yet some members felt that there could have been some room for engagement," The Observer was told.
"Some people did not envisage a physical fight or violence [in parliament]. The other side [NRM] could have had it [fighting] at the back of their mind but we could have maybe handled it differently. This could not have happened but there was no prior coordinated planning for the session," said one member, who declined to be named for fear of offending colleagues.
Indeed, some members think the attack on them by Special Forces Command plain-clothes operatives was effected with insider help.
"It cannot be a coincidence that when the security operatives entered the House to evict the suspended MPs, they started effecting the said order by throwing out people like Ssemujju and Mpuuga (Mathias Mpuuga, the Masaka Municipality MP), who had not even been suspended. It could have been that they were tipped off by one of us... " said the source.
At the time, Ssemujju and Mpuuga were coordinating the pro-age limit campaign strategy. Now, things are little more complicated, Ssemujju said this week.
"Everyone is welcome to make a contribution regardless of their political affiliation. This is why religious leaders and civil society organisations are playing a big role," he said.
"You can't say the opposition is to do it alone or that let's leave it to only a few people. This requires all our collective voices. MPs have played their role and we need the people... ," Ssemujju said.
Asked whether mutual mistrust will not hurt their planning, Ssemujju said it will not if all Ugandans are united against the proposed amendment.
"Every day we handle a meeting on age limits but this [MPs squabbling] is what we go through every day. MPs are complicated people and you cannot stop them from talking or addressing the press. It is within their right and I have no problem with it, except where they are addressing it on behalf of other colleagues. That is wrong," Ssemujju said.
Regardless, Mpuuga says they will continue mobilising the masses through their respective agents of socialisation like the church, civil society groups and cultural leaders.
"How can you plan for violence by the army? You just have to mobilise the people to your side," Mpuuga said.
Currently, there are three planning teams working against the Magyezi bill.
One group includes the whole opposition, independents and some NRM 'rebels'. Then there is the opposition group, whose lead strategists include Ssemujju, Mpuuga and Muhammad Muwanga-Kivumbi (Butambala).
The third group are largely NRM rebels, including, Theodore Ssekikubo (Lwemiyaga), Monicah Amoding (Kumi Woman MP), Gaffa Mbwatekamwa (Kasambya).
Tentatively, the opposition has organised joint rallies as part of an overall strategy to fight the proposed amendment of Article 102(b) which lays out the 35 and 75-year age limits for presidential candidates.