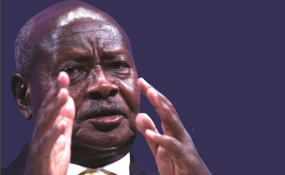 Photo: The Independent
By Sulaiman Kakaire
Afraid of coming up against stiff opposition from majority members on the Legal and Parliamentary Affairs committee, which is scrutinizing the age-limit bill, President Museveni's strategists are reported to be reaching out to its leadership with offers of a concession.
Speaking to The Observer on Saturday, Jacob Oboth-Oboth (West Budama South) said that unnamed NRM members have approached him as committee chair, saying they are ready to trade-off the restoration of term limits for scrapping the 35-75 age limits.
"The issue of concession is on the table, even though not formally, and it is not proposed by the NRM generally. There are some people who have brought it to my attention and I think it is one of the things that my committee will consider," Oboth-Oboth said.
However, Oboth-Oboth also said this depends on committee members.
"Politics of concession involves give and take. But most importantly concessions cannot work where people take extreme positions, or stick to their positions because they have the numbers or because they can talk and talk and talk," Oboth-Oboth said.
"What is shrouding us is the fact that some people are anti-Museveni and they are looking at the amendment in that sense. But we must look at the amendment as something that shall outlive Museveni," he said.
Oboth-Oboth added that the restoration of term limits is a good safety valve, which serves the same purpose.
"You see when you have the hand brake and leg brakes... " he said.
But Mathias Mpuuga (Masaka Municipality), warned of a ruse. Mpuuga said this is attempt to manipulate the committee to write a report which proposes such an exchange. That way, it would come across as more acceptable.
"Restoring the term limits favours President Museveni because it achieves what he wants. By that amendment he will be eligible to stand for another ten years. And yet the age limit, which stands as the only road block to his regime longevity would be given away," Mpuuga said.
"He knows that most people do not want him and he is using that as a carrot to win some hearts to his side," Mpuuga said.
There are 24 members on the Legal and Parliamentary Affairs committee. Of these, 13 MPs are NRM, six are independents while FDC and the DP have two members each. One MP is an army representative.
In our analysis of information from sources, likely opposition loosely stands at 14 against the bill, which seeks to amend Article 102(b) of the constitution.
Those who have spoken against are; Mpuuga (DP); Ssemujju Ibrahim Nganda (Kira Municipality, FDC); Monicah Amoding (Kumi Woman MP, NRM); Ann Adeke Ebaju (national female youth, Independent); Muhammad Nsereko (Kampala Central, Independent); Wilfred Niwagaba (Ndorwa East, Independent); Medard Lubega Sseggona (Busiro East, DP); Abdu Katuntu (Bugweri, FDC) and Abbas Agaba (Kitagwenda, NRM).
Others who have not been vocal, but are believed to be opposed are; Hamson Dennis Obua (Ajuri, NRM); Paul Akamba (Busiki, Independent); Remigio Achia (Pian, NRM); Veronica Isala Eragu (Kaberamaido, NRM), and Aston Kajara (Mwenge South, NRM).
That leaves only eight members of the committee likely to vote in favour of the proposed amendment.
They are; Robina Rwakoojo (Gomba West, NRM); Jackson Kafuzi (Kyaka south, NRM); Gaster Mugoya (Bukhooli North, NRM); Edward Makmot Otto (Agago, NRM); Dorothy Azairwe (Kamwenge Woman, NRM); Kenneth Obote Ongalo (Kalaki, NRM); and Sam Bitangaro (Bufumbira South, NRM).
The views of the other two members; Oboth-Oboth and Elly Tumwine, the UPDF representative, remain closely guarded.
It is this unpredictability which got Igara West MP, Raphael Magyezi, the sponsor of the bill, to petition Speaker Rebecca Kadaga over the reconstitution of the committee. The speaker has said it's not necessary, but it remains to be seen what she can do about it if government chief whip Ruth Nankabirwa insists on it.
The planning
According to knowledgeable sources, , another course of action by Museveni supporters would be to ask Oboth-Oboth to invoke the House rules, particularly Rule 85.
"It is hoped that if the rule [85] is invoked most members of the committee, especially those who have given sharp views against the bill, will be disqualified and the rest of the members shall raise the quorum that will be used in support of the report," an NRM strategist said.
Rule 85 of the Parliamentary Rules of Procedure provides that a member having any interest in any matter before the House shall declare the nature of his or her interest in the matter and shall not vote on any question relating to that matter, and such a member shall recuse himself or herself from the meeting until voting is over.
If seven opposition MPs are disqualified along with Kafuuzi, who had already been technically knocked out as seconder of the bill, only eight MPs would be needed to realise quorum. Oboth-Oboth said that he will only trigger Rule 85 in case members do not observe the House rules.
"We sat down and reminded everyone on the committee about the rules and if they do not heed to our caution they will technically knock themselves out of the process," Oboth-Oboth said.
Sources say that Oboth-Oboth advised the NRM parliamentary caucus to abandon the idea of committee reconstitution since it will expose the NRM as being shabby in its attempt to get around opposition.
Insiders of the age-limit amendment scheme told us that they are still holding onto three options of lifting age limits: either by recommendation of the committee in its report; moving on the floor during the House debate, or through another constitutional amendment.