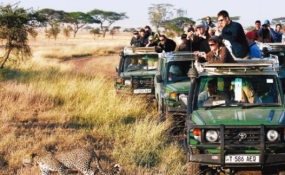 Photo: Daily News
By Gadiosa Lamtey
Dar es Salaam — Tourism stakeholders have called on the government to invest more on the promotion of available attractions as a way to increase visitors and revenue from the sector. Some tour operators say about 80 per cent of the attractions in the country have not yet been promoted thoroughly including the famous Mt Kilimanjaro and other national parks.
"Tanzania has very unique national parks such as Saadan National Park which is surrounded by the Indian Ocean but has not been well promoted," said a senior guide for birding/wildlife safaris from Shaky Tours & Travels Company, Mr Samson Ochieng.
Mr Ochieng was speaking with The Citizen during the third edition of Swahili International Tourism Expo (S!TE) held in the city at the weekend.
"So only a small percentage of our attractions have been advertised. For example, in Iringa there are many attractions as well as in Katavi region... the government should invest adequately to the Tanzania Tourists Board to increase marketing," he insisted
He said tour operators have been playing their party but the government to increase the effort.
For his part Simba Safaris Ltd managing director Mr Firoz Dharamshi said the industry is picking up but promotion is important as Tanzania is competing with other countries in tourism.
Ang'ata Camps managing director Mr Peter Pilliard said that the government should fund the TTB sufficiently as having attractions alone was not enough.
Tourism is Tanzania's leading foreign exchange earner with 1.2 million visitors in 2016. The revenue from the sector was $2.1 billion.