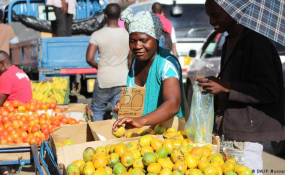 Photo: P. Musvanhiri/Deutsche Welle
By Sally Nyakanyanga
Scores of pushcarts full of vegetables and fruit are pulled by their owners as they move around selling in the Harare Central Business District. Car boots are packed with clothes and food. On the pavements, wares are displayed. A loudspeaker is heard from a distance, "Rat killer and cockroaches." This is an everyday scene as people try to eke out a living in this cash-strapped Zim economy.

Recent weeks have seen dramatic and unprecedented price increases on commodities in Zimbabwe as the bond note lost value against the United States dollar. The rural prices are pegged differently for the same commodity, with 25-40% charged for electronic transfers and when one is using bond notes.
For many unemployed citizens in the country, vending has provided hope and a source of livelihood for many households.
Sitting on the pavement along one of the streets in the CBD, Catherine Maruvheya, 39, has travelled more than 20km to sell rat killer, passport covers and toothbrushes. Maruvheya, who is a single mother raising five children, says she earns $5-$10 a day from the sales in the CBD.
"Selling in town is more profitable and this has enabled me to send my children...