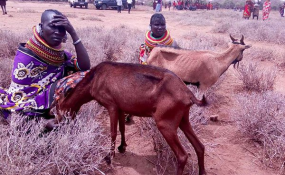 Photo: Godfrey Oundoh/Daily Nation
By Godfrey Oundoh
Parents in Samburu County are marrying off their underage daughters in exchange of food and livestock due to the biting drought, the Nation has learnt.
Girls as young as nine years have been given out to elderly men by their parents as a means of saving their siblings from starvation.
A spot check by the Nation in different parts of the county including Baragoi, Illaut, Nguronit, Keleswa, Lemolog, Suyan, Ngilai, Bendera and Barseloi in Samburu North revealed that hundreds of underage girls have also dropped out of school for early marriages.
According to Mr Simon Lalalaki, the deputy head teacher at Keleswa Primary School in Ndoto Ward of Samburu North, about six girls have been withdrawn from the school and married off by their families for food.
SURVIVAL MEANS
The minors who were in his school, the only educational institution in the area that has only three levels of classes (standard one to three), were among 76 pupils who make the entire school population.
"The drought and famine situation in this area has led families to look for survival means and marrying off these girls is one of them. Parents have given out their children to obtain water and food," said Mr Lalalaki.
The teacher who hails from South Horr which is about 32km away stays within the village.
He said the water problem has also led to massive school dropouts.
STAY HOME
This is as women ask their daughters to stay back at home and watch their siblings as they set for a more than 30km journey in search of the commodity.
"Many of the girls are asked to stay at home to take care of their younger sisters and brothers as some are tasked with taking care of goats with the cultural belief that goats tend to be more productive when taken care of by girls," added the teacher.
Mr Lalalaki called upon both the national and the county governments to intervene and rescue the girls whose future is being thrown away.
He termed water and food as urgent resources that are needed in the region to save residents who are losing hope day by day.
Keleswa Primary school has a total of three teachers.
The three depend on pupils' parents for water for their domestic needs and laundry as they have no time to leave the school and travel for tens of kilometres to get the commodity.