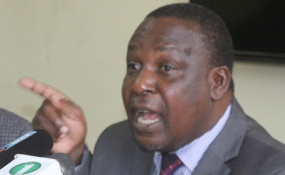 Photo: The Citizen
By Rehema Matowo News@tz.nationmedia.com
Geita — Agriculture and Livestock minister, Dr Charles Tizeba, has directed the ministry's Permanent Secretary, Mr Methew Mtigumwe, to sack three officials and suspend three others over corruption allegations.
The minister issued the directive on Sunday during the commemoration of World Food Day, which was held here on Monday, October 16, 2017.
Dr Tizeba said the officials caused the government a loss of Sh29 billion by disbursing agricultural subsidies to unqualified farmers in the 2015/16 agricultural season.
The minister also directed the Prevention and Combating of Corruption Bureau (PCCB) to launch investigations against the officials.
Those who face the axe following the minister's directive are deputy director of Agricultural Subsidies Shenal Nyoni, agriculture officers Michael Mayabu and Frank Kamhabwaa.
Those who will be suspended are director of Crop Production Twahir Nzallawahe, director of Procurement And Extension Services Burhan Shaban and acting director of Agriculture Subsidies at the ministry Canuth Komba.