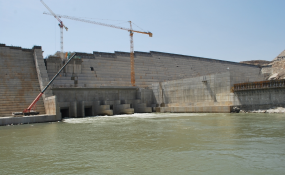 Photo: Ethiopian Herald
By Desta Gebrehiwot
The Ethiopian Diaspora Association aims to mobilize and reach more Diasporas to sustain their financial contribution to Grand Ethiopian Renaissance Dam(GERD) while calling for the government to come up with alternative income generation sources to unleash the potential.
So far the Diaspora community have contributed over 40 million Birr and are supporting the construction of the dam through donation and purchasing bonds, says Association Director General Abraham Seyum.
However, the Director General states the Association does not believe that government has done enough in unleashing Diaspora's financial potential. There are up to 2.5 million Ethiopians oversees. "This is a huge number and could be a good source finance. The Diasporas' contribution must continue with more determination. For this to happen, discussion forums should be organized to raise the understanding of the community towards GERD."
In fact, since its commencement, the Diasporas have shown indomitable determination to extend support to the the flagship project. To sustain the contribution, The Office of the National Council for the Coordination of Public Participation on the Construction of the Grand Renaissance Dam needs to design alternative income generation ways, such as touring the renaissance trophy in the countries where many Ethiopian Diaspora reside.
Besides the financial assistance , the diaspora community could lend themselves to public diplomacy role in countering unfounded rhetoric and rumors on the very purpose dam and promote a good image of the the country on the face of the world.
The association is opening many branches in other countries. The Office and Ministry of Foreign Affairs need to work jointly with the association in mobilizing the Diasporas and promoting their participation.