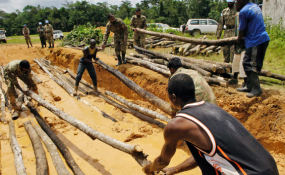 Photo: Eric Kanalstein/UN Photo
Better Future Foundation (BFF), proponent of Liberia Democracy Sustainability Platform (DSP), has applauded the mass turnout of citizens for October 10, 2017 presidential and legislative elections in the country.
In a release issued in Monrovia, BFF however, expressed regret that such mass turnout could not be translated into an inclusive participation of all registered voters in the polls.
The youth and student advocacy group also described as unfortunate the gross lack of infrastructure in the country to the extent that some of the facilities that played host to the presidential and legislative elections were unfit to serve the mass turnout, leaving many registered voters particularly pregnant women, nursing mothers, elderly, physically challenged among others totally disenfranchised.
BFF also flagged a number of challenges which it said were associated with Tuesday polls including delay with respect to the arrival of election materials to some polling centers, voters identification numbers, late commencement and closure of vote cast and counting as well as the apparent inability of some of NEC polling officers to educate and /or guide voters.
In its release signed by Mr. Augustine Arkoi, Founder and President, BFF also pointed out that several individuals who were in possession of valid voting cards could not cast their ballots when their names and identification numbers could not be traced in NEC's official register at multiple polling centers across the country.
Nevertheless, BFF applauded Liberian electorate who remain above violence during the polls on Tuesday amid various challenges.
Meanwhile, BFF has called on all political parties, presidential and legislative candidates to show not only full compliance to electoral laws and regulations but also ensure that their followers remain committed to non-violence elections.