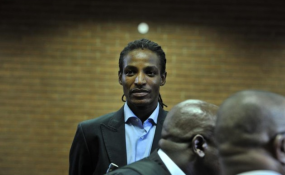 Photo: Elizabeth Sejake/Facebook
Kwaito star Sipho Charles Ndlovu, better known as Brickz, is expected to hear his fate in the Roodepoort Magistrate's Court on Tuesday.
Ndlovu will be sentenced for raping a 16-year-old girl at his home in November 2013.
He was found guilty of rape in July. His R50 000 bail was revoked after the conviction.
Previously, in mitigation of sentencing, defence lawyer Piet du Plessis called his witness, a correctional services social worker, Annette Vergeer, to the dock.
Vergeer said Ndlovu was using every opportunity to stay positive in prison and write music, News24 previously reported.
According to his brother, Ndlovu had been supporting his family financially.
"He is an honest and humble person and was always the one to protect the vulnerable," the brother said.
Ndlovu earned R50 000 a month prior to his arrest.
In aggravation of sentencing, State prosecutor Pratisha Salie said the victim was unable to testify due to the publicity the case had gained. Instead, Salie read out her statement in court.
"I never felt the same again, I felt so down. You may be going to jail, but you broke me. I never lived a teenage life," the statement read.
She said Ndlovu took away her happiness and broke her trust, adding that she regarded him as a father but he raped her.
Salie said the victim was not coping after the rape.
Du Plessis said his client was a first offender and asked for a minimum sentence of 10 years.
Source: News24