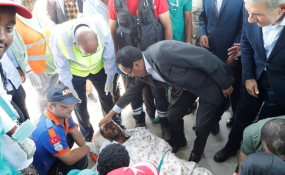 Photo: Shabelle
By Gadiosa Lamtey
Dar es Salaam — ACT-Wazalendo has said is saddened by the killing of more than 250 people in Mogadishu on Saturday October 14 and condemns the perpetrators.
In the incident said to have been engineered by the terrorist group, Al-Shabab, more than 400 people were wounded.
In a statement released on Monday October 16 by party's chairman for Foreign Affairs and International Cooperation Venance Msebo, ACT-Wazalendo has been shocked by fatal bombings at a time many countries strive for restoring peace and harmony in the world.
"We send our condolences to the government and the people of Somalia. We pray to God so that he gives them strength and patience during this difficult moment especially for the loss of their beloved ones," he said in a statement.
He said ACT-Wazalendo called on Somalia, the East African Community (EAC), member states of the African Union (AU) and the international community to continue with efforts to restore peace in Somalia.
The party official said further that deliberate efforts should be taken to avoid similar incidents in the future, as they were a threat to the peace and harmony of society.
"If Somalia is not be safe, then Africa and the world will be unsafe as well," noted Mr Msebo.