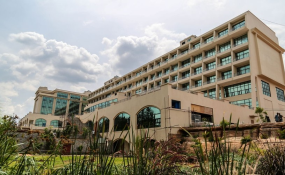 Photo: The New Times
By Eddie Nsabimana
Banks' high interest rate on loans is fast becoming a threat to tourism sector operators, industry players have said.
With local commercial banks charging between 17 per cent and 24 per cent in interest on the loans provided to operators in the sector, hoteliers say that it is too high given the returns in the industry.
Odette Nyiramongi, from Paradise Hotel in Rubavu District, said that the costs are quite high and pay back period short.
"The banks are demanding too much interest on the loans offered to hotel business operators and are not willing to provide it on long-term basis while this business takes long," she explained.
The concerns by the private sector operators were raised during a CEOs Forum held in Kigali Friday.
It came at a time when the sector is setting out towards achieving revenue targets of $800 by 2024.
Rwanda Development Board's chief executive Clare Akamanzi assured operators that the government will continue to improve operating conditions in the sector.
Akamanzi promised sector players that discussions will be held on the possibility of lower interest rates.
"We want the tourism sector to become more attractive and need to understand key areas where we need to put more efforts," she said.
She added that if local commercial banks are not willing to provide long-term loans, the government could look into the possibility of connecting them to foreign banks which can give them long-term loans.
Confusions on loan charges?
Monique Nsanzabaganwa, the central bank vice governor, said that some charges are exercised in compliance with some clauses in loan application forms, cautioning business operators to be careful with such contracts.
"Some clauses are ignored and misunderstood due to language used or the loan applicant's lack of attention. But it is the client's right to ask for a loan application form in a language they understand to avoid such misunderstandings," Nsanzabaganwa said.
The CEOs Forum is organised every year since 2016, and brings together different private business operators to discuss with the government how the business sector can progress to the level of significantly benefiting the sector players and the country at large.