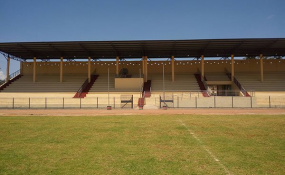 Photo: Elias Makori/Daily Nation
By Elias Makori
As largely expected, the Confederation of African Football (Caf) at the weekend handed Morocco hosting rights for next year's Africa Nations Championships (Chan) after stripping unprepared Kenya the onus.
The confederation's argument was that Kenya was politically, and in terms of infrastructure, unprepared to host this second-tier tournament that counts for little, save for player exposure.
Subsequently, Kenya's home-based players will miss the opportunity to strut their stuff in front of continental television cameras with the hope of attracting the eye of talent scouts.
As usual, it was a mad, last-minute rush to ready stadiums to beat Caf's deadline.
Eldoret's Kipchoge Keino Stadium, Meru's Moi Kinoru Stadium along with the Machakos and Nyayo National Stadium were considered far from ready for the tournament, traditionally hosted in January, with renovation works lagging way behind schedule.
Football Kenya Federation is now rallying to have the regional Cecafa Senior Challenge Cup in Kenya next month.
Nakuru, Kisumu and, possibly, Mombasa will most probably host matches of the annual East and Central Africa tournament, Africa's oldest regional competition.
Bizarrely, Narok hasn't been considered for the annual tournament, and wasn't even in the FKF radar for the aborted Chan competition. Yet the Narok County Stadium is one of the hidden treasures of Kenyan sport that's yet to be exploited, although AFC Leopards have already wisely adopted it as their temporary home ground.
The Narok stadium was commissioned in 2012 through the then Office of the Deputy Prime Minister and Ministry of Local Government, following a request from the local authorities.
Some Sh313.6 million was allocated to the project whose first phase -- which has been completed - saw construction of the playing field, running track and VIP terraces, with an initial capacity of 5,000 people. The second phase will include more terraces, a swimming pool, basketball courts along with a lower boundary wall and landscaping.
Located just 80 kilometres from the world-famous Masai Mara Game Reserve, the Narok stadium holds huge potential for Kenyan sports tourism.
Benson Kariuki, an experienced sports administrator, who is currently managing the stadium on behalf of the Narok County Government, is already working on programmes that will see the stadium play a pivotal role in cashing in on the splendour of the Mara.
"It's surprising that we were not considered to be one of the Chan venues, yet what we have developed here can easily gain approval to host such a tournament, especially with the completion of the second phase of the project and the vantage point we hold next to the Masai Mara," Kariuki wondered when I happened by the stadium for a brief tour last week.
What comes to mind, for instance, is a "Mara Sevens" rugby tournament where world class teams could camp at the five star hotels and lodges in the Mara and drive down for their matches at the stadium during the long wildebeest migration seasons.
Or indeed an invitational "Mara Cup" football to be organized on a similar basis. The ministries of Sport and Tourism really need to think outside the box and cash in on new attractions and revenue streams rather than over-rely on traditional assets.
It's tedious to continuously harp on "fauna and flora," "game drives," the "big five" and "sandy beaches" while we can be innovative and attract some fresh offerings while still cashing in on our traditional touristic vantage points.
Narok is a treasure and thanks to specific attention that Governor Samuel Kuntai Ole Tunai's county government continues to place on sport, something positive will most certainly stem out of Kenya's perennially tainted sports management.
Indeed, as I've previously pointed out before, county governments will be pivotal in helping develop Kenya's sports potential and boost sports funding as we cannot continue relying on an over-burdened national exchequer.
It would be awesome to have youthful Governor Stephen arap Sang's Nandi County Government complete works at the Kipchoge Keino Stadium in Kapsabet, while it's reassuring to see steady progress at the Eldoret stadium, also named after the Olympic legend, under the supervision of Uasin Gishu Governor Jackson Mandago.
For years, we've been told about money being set aside by the Kisii County Government for the refurbishment of Gusii Stadium, and now that Governor James Ongwae is through for another term, such talk should translate into action.
Ditto Nyamira County where Governor John Nyagarama broke ground for a county stadium in his first term, but to date, it's been just that: ground-breaking.
In Mombasa, Governor Ali Hassan Joho's decision to put up several turf pitches, including at the famous "Uwanja wa Mbuzi," is a step in the right direction, as is Governor Alex Tolgos' allocation of funds for refurbishment of the historic Kamariny Stadium in Iten, a town famous for distance running training and paragliding.
In drawing up and approving their budgets, county executives and assemblies should not treat sport as a fringe concern, but rather as an additional revenue stream.
Sports is too important to be left to national government alone.