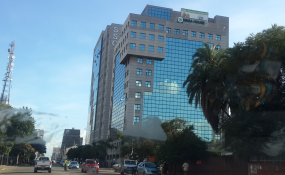 Photo: Jerry Chifamba/allAfrica
By Taurai Mangudhla
The National Social Security Authority is set to lose property worth $628 000 after it was attached by a former employee who won his case at the High Court. The High Court last week ordered NSSA to pay former chief strategic assets officer Chikuni Mutiswa $628 336,23 in damages for unlawful dismissal after he served for only six months. Officials from the Sheriff for Zimbabwe were yesterday afternoon seen attaching property at NSSA's head office.
Mr Mutiswa, who was represented by Constitutional law expert Dr Lovemore Madhuku, was unceremoniously dismissed by NSSA in a January 2017 letter which backdated his dismissal to December, 2016. Prior to the dismissal, NSSA had written to Mr Mutiswa seeking to extend his probation period to six months from the initial three months on grounds he had underperformed. However, Mr Mutiswa declined the proposal.
"I have had an opportunity to consider it in detail and must respectfully decline to agree to the 'extension'. My probation period ended on September 30, 2016," Mr Mutiswa argued in a December 30, 2016 letter addressed to NSSA CEO Elizabeth Chitiga.
He declined on grounds the proposed extension of probation was a legal nullity as it contravened his signed contract and the Labour Act. Mr Mutiswa was thereafter dismissed leading to his appeal. According to a Writ of Execution in possession of The Herald Business, the Sheriff for Zimbabwe was given the order on October 11 and Luke Malaba, chief Justice of Zimbabwe was witness.
"You are required and directed to attach and take into execution the movable goods of NSSA the above mentioned Defendant, of NSSA house, Cnr Selous avenue and Sam Nujoma Street, Harare, and of the same cause to be realised the sum of $628 336,23 together with interest thereon at the prescribed rate from the date of issuing summons to the date of full and final settlement, in favour of Chikuni Mutiswa the above mentioned Plaintiff which he recovered by judgment of this Court dated October 4, 2017 in the above mention suit and also all other costs and charges besides all your costs thereby incurred," the High Court wrote to the Sherriff's department.