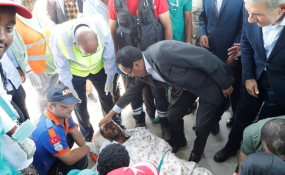 Photo: Shabelle
Egypt condemned on Sunday 15/10/2017 the deadly truck bombing that took place on Saturday in the Somali capital, Mogadishu, leaving 85 people dead and dozens injured.
Al Shabab extremist group claimed responsibility for the attack.
In a statement issued by the Foreign Ministry on Saturday, Egypt offered deepest condolences to the families of the citizens.
It also stressed that it stands by the government and people of Somalia in face of terrorism.