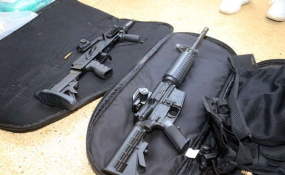 Photo: Jeff Angote/The Nation
By Kennedy Kimanthi
More detectives have arrived at the home of businessman Jimi Wanjigi in Muthaiga, Nairobi, in a raid and siege that started on Monday.
The additional crime busters arrived on Tuesday morning carrying heavy equipment and tools, including sledge hammers.
The officers entered the house with a heavy tool box, perhaps pointing to their resolve to force doors open.
They were dragging a heavy tool box, perhaps pointing to their resolve to force internal doors open.
They drove into the palatial home as heavily armed General Service Unit officers kept watch outside.
The residence of the well-known tenderpreneur-- who cut multi-billion-shilling deals during Daniel Moi, Mwai Kibaki and early years of Uhuru Kenyatta regimes-- has been under siege for 24 hours now.
The red berets led the raid on the Muthaiga home on Monday and spent the night there, investigating crime.
It is not yet clear what the officers drawn from GSU, Special Crimes Prevention Unit and the Directorate of Criminal Investigations are investigating.
The media have been kept outside the home, with the main gate shut and only opening to let police vehicles in.
Police on Monday morning raided three palatial residences of the tender billionaire and said they had found five AK assault rifles and ammunition in one of them.
Officers from the Special Crime Unit entered Mr Wanjigi's houses in Mombasa's upmarket Nyali estate, a 22-bedroom villa believed to be his in Malindi, and the opulent residence in Muthaiga.
Mr Wanjigi is a key financier and strategist for Raila Odinga's National Super Alliance (Nasa) after falling out with President Kenyatta's Jubilee camp, whom he supported in 2013.
He is a controversial and secretive individual who was associated with the Anglo Leasing scandal and has raked in billions of shillings through tenders in the former Government of National Unity.
More follows.