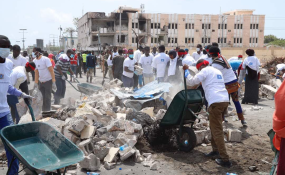 Photo: Harun Maruf/Voice Of America
Pretoria - The Department of International Relations and Co-operation (Dirco) says no South Africans were among the more than 300 people killed in a terror attack on the Somali capital Mogadishu. Over 300 were wounded as well in the deadliest attack to date on the city.
Contacted by News24, spokesperson Clayson Monyela said: "No! They were no South African in Mogadishu over the weekend."
Monyela said the government condemned the attack in the strongest possible terms.
He said it was particularly concerning that the attack was aimed indiscriminately at innocent civilians.
Monyela said President Jacob Zuma had sent a message of condolence and the government would continue to work with other member states of the African Union and the UN to explore long-term solutions to the scourge of terrorism and extremism.
To date the only African countries to have offered their help to Somalia were Kenya and Ethiopia. Turkey will be airlifting 50 of the critically ill to that country where hospitals have been put on alert.