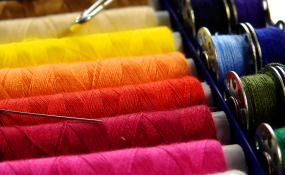 Photo: Pixabay
By Deus Ngowi in Arusha
EAST Africa is seeking to galvanise synergies of textiles industry players by linking the local cotton, textile and apparels industry to the untapped markets in the region, 'Daily News' has learnt.
The East African Business Council (EABC) Chief Executive Officer, Ms Lilian Awinja, explained here that the East African Business and Entrepreneurship Conference and Exhibition would provide a platform for creating synergies and links between the local cotton and textile industries with local suppliers and fashion designers in a bid to propose an action plan outlining policies and modalities for promoting the sector's performance, productivity and quality.
"It is a high time that EAC member countries embarked on manufacturing apparels such as inner garments, ties and scurfs that require low level technology and skills, as the region works on a phase out approach of imported second hand clothes. There is a huge opportunity for the African fashion and design industry to be in the spotlight on the international market," said Ms Awinja.
The CEO noted that cotton production, processing and trade was highly influenced by policies of major producing countries, through price support, tariff protection, production subsidies and stock piling that destabilise cotton prices, and that competitiveness of the cotton industry in the East African Community (EAC) was faced with challenges such as low yields, ginning overcapacity, low ginning out-turn ratio and inefficient value addition.
"Value addition in the cotton and textile Industry into innovative aesthetic accessories, interior designs and fashion can create more job opportunities in the stitched together to form 2.5 million square kilometres and should the seventh one join the bloc, it will be the largest community in the world with 4.4 million square kilometres of land between them.
Meanwhile the East African Community and the United States Agency for International Development (USAID) have just reviewed the five-year Regional Development Objectives Grant Agreement to the tune of 436 billion/- which commences next year, 2018.
"The five-year US $ 194 million grant to EAC will support health, energy and environment sectors from 2018, with Dr Karen Freeman, the USAID Mission Director for Kenya and East Africa," stated Ambassador Liberat Mfumukeko the EAC Secretary General.
Late last year, the US Government through USAID and the East African Community (EAC) launched a Regional Development Objectives Grant Agreement at the EAC headquarters here worth 436 billion/-.
Through the agreement, the USAID will contribute approximately $194 million over a five year period to shared development goals, deepening the partnership between the two organisations. About US $30 million will fund institutional strengthening within the EAC Secretariat, while the remainder will support other development and social projects.