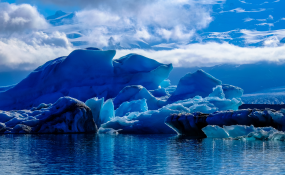 Photo: Pexels
analysis
Every time South Africa suffers a serious drought, it doesn't take long for someone to suggest that an iceberg should be towed from Antarctica to be tapped as a water source. It sounds laughably outlandish, but a company in the United Arab Emirates claims that it is undertaking the task in 2018 in order to alleviate the UAE's water shortages. Could the same thing work for South Africa? By REBECCA DAVIS.
What's this about an iceberg?
If you haven't yet heard someone suggest that we need to tow an iceberg to South Africa to help supplement our water reserves, you probably don't get out much. It's an idea which has been in circulation for years - in fact, as we'll see, for more than a century.
This is ridiculous. I only came here to leave a scathing comment.
Humour us for a minute. After all, in June this year the City of Cape Town officially put out a Request For Ideas on addressing the Western Cape's spiralling water crisis. At this stage, with Minister of Local Government Anton Bredell saying on Monday that "matters will in all likelihood only get worse from here on out", it's safe to say that...