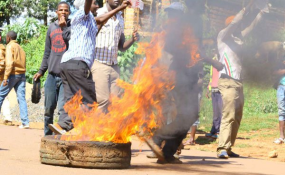 Photo: Benson Momanyi/The Nation
By Erick Oduor
The standoff pitting Kenya's President Uhuru Kenyatta against opposition leader Raila Odinga over the repeat presidential election has rekindled the role of the international community, which has in the past brokered political deals in similar circumstances.
With religious leaders being accused of failing to help the country heal from deep divisions, the diplomatic missions in Nairobi, mainly the European and US ambassadors, could help the country find a solution to the political stalemate.
The hardline stance taken by allies of President Kenyatta and Mr Odinga has scuttled efforts, led by US ambassador to Kenya Robert Godec, to strike a deal.
Lack of trust in the international community by the opposition is as a result of the pressure it put on Mr Odinga to concede defeat after the August 8 General Election, only for the Supreme Court to nullify the results, citing massive irregularities and illegalities.
According to Mr Odinga and his allies, the international community is obsessed with peace and stability at the expense of free, fair and credible elections in Kenya.
"It is unfortunate that international actors who have supported Kenyans in their quest for democracy and good governance are now on the side of appeasing dictatorship in the mistaken belief that it will maintain stability," said Mr Odinga.
But President Uhuru Kenyatta last week said that calling on the international community will not lead to formation of a coalition government or to elections being conducted by external agencies.
On Tuesday, Mr Odinga, the presidential candidate for the National Supper Alliance, announced that he was withdrawing from the repeat presidential poll slated for October 26.
The following day, the US embassy in Nairobi "urged Kenyans to come together to support their Constitution, their institutions, and to work for an election that is free, fair, credible, transparent and peaceful."
Mr Godec said the US will remain neutral in the ongoing political contest and "will stand with all Kenyans working to hold the best possible election and to deepen democracy, advance prosperity and strengthen the security of their country."
Two weeks ago, Mr Godec led Trade and Foreign ministers from the European Union to meetings with the government, opposition and the Independent Electoral and Boundaries Commission (IEBC) with a view to midwifing a political deal.
However, current Western and US ambassadors have found themselves ineffective in their attempts to broker a political deal with threats of visa denial to their countries being their only weapon to get leading politicians to toe the line.
Mr Odinga while speaking in London on Friday, appealed to the international community to intervene and unlock the impasse like it did in 2008 when the country plunged into chaos.