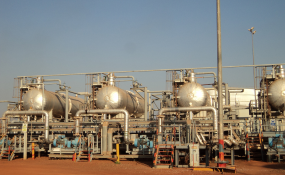 Photo: Charlton Doki/IPS
By Njiraini Muchira
Economically struggling South Sudan is determined to restore security in the country in order to resume normal crude oil production and attract investments. The oil sector has been battered since South Sudan's civil war started in December 2013.
With 95 per cent of the economy relying on oil revenues, the country hopes to restart normal crude production. The government has cut down on social welfare programmes like health and education, put on hold investments in infrastructure, companies are laying off workers and foreign firms are fleeing.
"The past 18 months have been challenging for the oil industry because the conflict and declining oil prices have led us to make painful decisions and adjustments, but the worst is behind us," said James Wani Igga, South Sudan vice president. Investors are giving the country a wide berth at a time when it desperately needs resources for exploration activities and building of refineries and pipelines.
Encourage investors return
The country estimates that the current 3.5 billion barrels of recoverable crude reserves represents only 30 per cent of its oil potential, with 70 per cent remaining unexplored. South Sudan also has three trillion cubic metres of recoverable natural gas.
With production currently standing at 130,000 barrels per day being produced by Dar Petroleum Operating Company, and crude prices at the international market at a depressed low of $48 per barrel, South Sudan's economy is struggling.
Restored security will not only enable the country to increase production to pre-crisis levels of 300,000 barrels per day, but also encourage investors to return. Before becoming an independent state in 2006, South Sudan was producing about 500,000 barrels per day.
"We want to increase security in oilfields so that we can resume normal production and attract investments from new explorers," said Ezekiel Lol Gatkuoth, South Sudan minister for petroleum.
The government says it has so far managed to recapture key oil producing states that were under the control of rebels, and increased security in new blocks that it hopes to license to potential investors for exploration.
"All the new blocks are now well protected and this will help us move aggressively into upstream," said Mr Gatkuoth at the inaugural Oil and Gas Conference in Juba.
However, Sudd Petroleum Company and Greater Pioneer Operating Company, which halted production due to infighting are hesitant to resume normal operations.
Repairs complete
Despite the instability, Russian company Safinat, in a joint venture with state-owned Nile Petroleum Corp, has completed repair works of the control room of a new refinery in Unity State that was destroyed by rebels.
The facility has an initial capacity to refine 10,000 barrels per day. Sudd Petroleum Company had halted production due to the war. The company has the capacity to produce 80,000 barrels.
Greater Pioneer Operating Company also plans to resume production of 38,000 barrels per day. The Safinat refinery which was built at a cost of $100 million is one of the four refineries, which will have a total refining capacity of 127,000 barrels per day.
Trinity Energy has plans to build a refinery in the country, which will be completed by 2020.