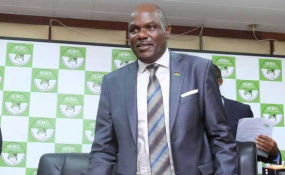 Photo: Jeff Angote/Daily Nation
By Olive Burrows
Nairobi — In the public interest, the Supreme Court on Tuesday took the time to restate the position that the Chair of the Independent Electoral and Boundaries Commission, acting as the returning officer of the presidential election, cannot in any way alter the results from the constituency.
All five of the judges who heard an application for clarity on the matter from IEBC Chair Wafula Chebukati, concurred that his role in the October 26 fresh presidential poll will be limited to aggregating the 291 results as captured on the constituency result forms 34B.
This, they reiterated, did not exempt the Chairman from verifying that the results on the forms 34B tally with those from the 40,883 polling stations from which they are computed and where discrepancies emerge, make them publicly known - but the results to be relied on in the declaration of a winner, the judges made clear, are those from the 291 constituencies as the IEBC in calculating the overall August 8 result, the court found, correctly interpreted the Court of Appeal ruling on the matter to mean.
"Nowhere in the majority judgement did this court criticise the IEBC and Chebukati reliance on the Maina Kiai case, on the contrary what this court took issue with was the decision by Chebukati to declare the result that had not been tested against the transmitted results in form 34A from the 40,883 polling stations countrywide," Deputy Chief Justice Philomena Mwilu read out on behalf of the majority.
When making any discrepancies arising out of the process of verification known to the presidential candidates, observers and public at large, the apex court also made clear, Chebukati should also come out clearly on the impact of said discrepancies on the outcome of the election.
"Any inaccuracies discovered by the verification of forms 34A and B, even as he declares the results as generated from forms 34B to generate form 34C, the effect of such inaccuracies on an election depends on their gravity or otherwise and Chebukati must state whether the discrepancies affect the overall results or not."
But the power to correct said discrepancies, the court maintained, rests with them.
And while expressing reservations with regard to its power to entertain Chebukati's application, it exercised its jurisdiction to set the public record straight.
"We entertain serious doubts as to whether this court has jurisdiction to clarify its judgement... (but) in exercise of the inherent powers of this court, we shall therefore proceed to determine whether there is any matter to be clarified and if so, to what extent. This assumption of jurisdiction is all the more necessary so as to avert the danger of an impression being created in the mind of the public that there exists an ambiguity in the court's judgement even where there might be none."