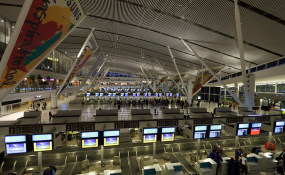 Photo: Jimmy Baikovicius/Flickr
Reports have emerged of a shooting at Cape Town International Airport.
CapeTalk reported that one person was shot by a stray bullet in what appears to be a gang-related shooting.
The shooting took place at about 05:15 on Wednesday morning, according to CapeTalk Radio.
It is alleged that a BMW X5 and a white vehicle were involved in the shooting.
Police and the Airports Company South Africa (Acsa) confirmed the incident.
SAPS spokesperson Vish Naidoo said: "It was a passenger that was dropped off at the drop and go. He was shot at and was wounded in his upper body.
"Our investigators are at the scene at the moment and the victim's identity cannot be revealed at the moment."
Naidoo said the drop and go facility would be closed while investigations took place at the scene but the Airports Company had made alternative arrangements for travellers.
Acsa tweeted that airport operations are not affected, and roads have not been closed.
Source: News24