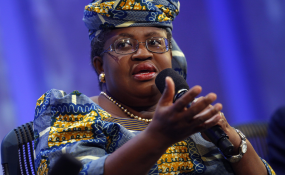 Photo: Premium times
By Christopher Isiguzo
Enugu — A pro-Biafra group, the Biafra Zionists Federation, (BZF), on Tuesday appointed a former Minister of Finance, Dr. Ngozi Okonjo-Iweala, as Ambassador to the United States of America.
The group also appointed Dr. Dozie Ikedife as the Chairman of National Committee for Biafra's independence and Hon. Kanu Agabi as Attorney General of the Federation.
BZF berated Igbo leaders over their recent meeting with President Muhammadu Buhari in Aso Villa, Abuja, describing the visit as futile and self-serving.
It accused Igbo leaders of going to Aso Rock to share war bounties, while the agitators were dying in the struggle for the restoration of Biafra.
The leader of the group, Mr. Benjamin Onwuka, who issued a "stern warning" to the leaders in a statement made available to journalists in Enugu, accused the Igbo leaders of working against the interest of the common man in the street.
Re-call that at the meeting attended by select South-east leaders and the governors from the zone, President Buhari dismissed insinuations that he was marginalising Ndigbo.
He also announced a change of his name to Onwuka Nsiegbe, vowing that with the support of the US, he would before this year's Christmas re-declare Biafra at Lokoja in Kogi State.
According to him, "We are hopeful that Biafra is going to be approved in December by the US because this problem of Biafra is not about IPOB or Nnamdi Kanu, it is about America's support. We are now waiting for President Donald Trump's endorsement before Christmas; whatever we are doing is based on America's diplomatic engagement.
"Therefore, the Republic of Biafra will be announced in Lokoja; Lokoja is an Igbo land; as at 1914 when the amalgamation took place, Lokoja was part of Igbo land; Igbo land extends up to Plateau State; it used to be called Arochukwu kingdom; so, Biafra is going to reclaim her sovereignty from Lokoja.
"Biafra issue is a diplomatic matter; if America does not support us, it will not work; so, IPOB or Kanu cannot get Biafra; what the IPOB is doing is a waste of time. We are hopeful that our diplomatic approach will make it come true.
"We want to restate our ministerial appointments. They include Foreign Minister, Patrick Utomi; Finance, Arunma Oteh; Governor of the Central Bank of Biafra, Prof. Chukwuma Soludo; Information, Amarachi Ubani, currently at Channels Television, Lagos; Trade and Industry, May Okafor, currently at the University of Nigeria, Nsukka; Transportation, Prof. Jerry Gana; Aviation, Labaran Maku; Secretary to the Government of the Republic, Beny Lar; Education, Gabriel Oluwole Osagie; Energy, Prof. Barth Nnaji; United Nations, Chief John Nnia Nwodo, the current chairman of Ohanaeze; Defence, internal affairs, agriculture, police, air force, prison service, customs, would all be Israelis."