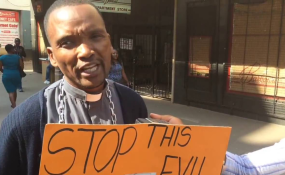 Photo: New Zimbabwe
Controversial and anti-President Robert Mugabe cleric Pastor Phillip Mugadza said he will be contesting in the next general election as an independent candidate for Gutu South constituency seat in Masvingo province.
Mugadza becomes the first well known person to announce his intention to run as an independent candidate in the ruling Zanu PF stronghold.
However he joins other civil rights activists who will also be running as independent candidates in the 2018 general elections such as Linda Masarira (Harare Central), Fadzayi Mahere, (Mt Pleasant) and Vimbai Musvaburi (Bulawayo Central).
In recent years, Mugadza has been a notable activist taking the Mugabe regime head on, accusing it of running down the country.
He has never hidden his hatred for Zanu PF politics and early this year he was arrested when the claimed that God gave him prophecy that Mugabe was going to die on the 17th of October.
Four days before the date, Mugadza pulled another shocker saying the death had been "postponed".
Mugadza rose to fame in December 2015 when he staged a one man demonstration in the resort town of Victoria Falls during the Zanu PF conference.
He has, on numerous occasions, staged demonstrations at the Africa Unity Square wearing a sack, carrying the cross and sometimes chaining himself to a pole calling Mugabe to step down.
In an interview, Mugadza, who is the leader of Remnant Church based in Kariba, said he was tired of writing letters and petitions to Mugabe without any response.
"I have tried on numerous occasions to meet Mugabe but I have been blocked to do so by his aides," said Mugadza.
"Time to complain is over, I have seen many people suffering for the last two decades, and now it's time to meet him and his party in Parliament."
Mugadza added, "I have tried to raise these issues with Mugabe but his attitude shows that he doesn't care."
"The First Family don't care about citizens; look how poor villagers were chased away in Mazoe at Manzou and Arnold farms where they have been staying for the past 17 years."
Because of financial constrains Mugadza said he will be using a bicycle as a means of transport to campaign in Gutu.
"I need bicycles for my team to mobilise people to vote and also sell myself as a better candidate."