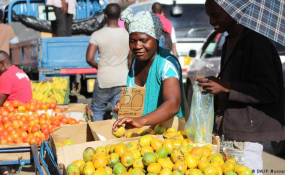 Photo: P. Musvanhiri/Deutsche Welle
Former Vice President Joice Mujuru has said she frequently clashed with President Robert Mugabe over his bad economic policies, disagreements which made her boss unhappy and resulted in her dismissal from government.
Addressing hundreds of informal traders in Bindura on Monday, Mujuru, who is now the president of the National People's Party (NPP), said her disapproval of the deteriorating economic situation in the country because of bad policies, forced Mugabe to dislike her and this saw her being pushed out of both government and Zanu PF.
"When I was in government, I used to regularly clash with Mugabe over his economic policies and he was not happy with that and that is why we parted ways. However, as the next president of Zimbabwe, I assure you that there will be economic growth and industries will reopen," Mujuru told the vendors.
However, Mugabe has said he dismissed Mujuru because she was involved in witchcraft and wanted to illegally remove him as president.
The meeting with the vendors was meant to encourage them to register to vote ahead of the 2018 elections.
"But for this (economic growth) to happen, every eligible person should register to vote in next year's elections. Only by voting will we be able to remove the Zanu PF regime and bring social and economic development in Zimbabwe," she said.
The Monday tour also saw Mujuru visiting Rushinga, Mt. Darwin and Glendale, all in Mashonaland Central.
State security agents and Zanu PF youths are reported to have unsuccessfully tried to bar the vendors in Bindura and Mt. Darwin from meeting with Mujuru. Most vendors defied the order and temporarily closed for business for Mujuru's address.
"We were warned against attending your meeting by known CIO (Central Intelligence Organisation) and Zanu PF officials here. They said we would be removed from our stalls if we met you, but we are fed up and prepared for anything.
"We do not want to continue vending, but we want jobs, which Zanu PF has failed to provide," an informal trader in Bindura told Mujuru.
In response Mujuru said, "I am aware that you did not venture into vending by choice, but because of the harsh economic environment as a result of Mugabe's misrule".
Last week, there was a standoff in Harare after the government issued a directive to all vendors operating in the central business district to move to designated selling points.