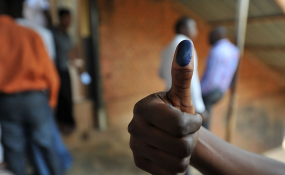 Photo: New Times
Maputo — Seven Mozambican civil society organisation on Tuesday announced the establishment of an initiative entitled "Votar Mocambique" ("Vote Mozambique") with the purpose of involving citizens in the entire process surrounding the municipal elections scheduled for 2018 and the presidential, parliamentary and provincial elections of 2019.
The bodies behind the initiative are the Centre for Public Integrity (CIP), which is the country's main anti-corruption NGO, the Community Radio Forum (FORCOM), the Institute of Economic and Social Studies (IESE), the Institute for Multi-Party Democracy (IMD), the Civil Society Training Centre (CESC), the Mozambican branch of Women and Law in Southern Africa (WLSA) and the Civil Society Support Mechanism (MASC).
Addressing a Maputo press conference, the director of the initiative, Adriano Nuvunga, said "Votar Mocambique" would have a network of 350 reporters scattered across the country to carry out "journalistic electoral observation".
This work will be carried out in collaboration with the London-based "Mozambique Political Process Bulletin" which, over the years, has established itself as a reliable source on Mozambican elections. Similar reporting was undertaken for the 2014 general elections, but the network of reporters then was only 190 strong.
The initiative also has a conflict management component. Previous elections, Nuvunga said, have been marked by conflicts. FORCOM and the IND in particular will work on this issue, monitoring incidents in real time. They intend to set up a "conflict room", where the National Elections Commission (CNE), the political parties, and religious bodies will be represented.
Joao Pereira of MASC added "We shall not wait for conflicts to happen. We shall act in the area
"Votar Mocambique" also intends to mobilise citizens, particularly young citizens, to take part in the elections. Nuvunga noted that in recent elections there have been worryingly high levels of abstention, and the initiative will seek to persuade citizens that it is worth registering as voters and casting their ballots.