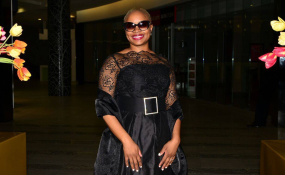 Photo: Josina Machel/Facebook
Maputo — Josina Machel, the daughter of Mozambique's first President, Samora Machel, on Monday launched in Maputo the Kuhluka Association, a movement that seeks to provide support for women victims of violence.
At the launch ceremony, Josina said Kuhluka will seek to eradicate gender-based violence, and will set up shelters to provide support for the survivors of domestic violence.
The Centres will be established, in a pilot phase, as from 2018 in Maputo city and province. They will provide women sufferers of domestic violence with care free of charge including psychological counselling and therapy, medical services, police protection, and care for any children dependent on them.
Josina told AIM that the initiative is a way of providing immediate care for the victims of violence. She said that many cases of violence are only discussed inside the home, which does not help eliminate the problem.
"We want women to know that they can go to a place where they will be received with care and tenderness, and attended to by doctors and members of the police", she said.
Josina added that Kuhluka is inspired by a similar movement in the United States, particularly in the city of Phoenix, Arizona.
"We have formed partnerships with some refuges and shelters in the United States which have models of how this should work, and how the women should be treated", she said.
Josina herself is a survivor of domestic violence. She was savagely beaten by her boyfriend, businessman Rufino Licuco, in October 2015, and as a result lost her right eye.
In February, a Maputo court found Licuco guilty of the assault and gave him a suspended prison sentence of three years and four months, and ordered him to pay Josina damages of 2.8 million US dollars. This sentence was widely regarded as lenient: the Machel family had been hoping for a custodial sentence.
Recalling the night of the assault, Josina recalled "It was 01.30. I cried out for help. Nobody heard me. Nobody did anything. If someone had appeared, they would have helped me and perhaps saved my sight".