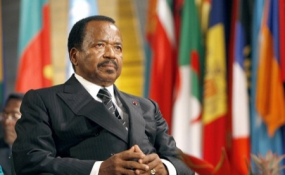 Photo: www.google.fr
By Lukong Pius Nyuylime
The new bridge over River Wouri in Douala the gateway to and out of the city for travelers to and from the South West, North West and West Regions has been opened to traffic. It is surely a big sigh of relief for the population. The reaction of Douala city dwellers has been that of full satisfaction. Taxi drivers, motorbike riders and even pedestrians have all been expressing joy over the new bridge. Some have gone as far as declaring the end of suffering especially when they remember the hurdles they had to go through, taking sometimes several hours to cross the old bridge. Residents in the neighborhood of Bonaberi remember with distress how they were compelled to leave their houses as early as 4 AM in order to cross the bridge and report to work on time. Even then, many ended up not achieving their goal. The story seems to be different with the opening of the new bridge to movement. The bridge is wider and can enable many vehicles, bikes and people traveling on foot to cross and relatively smoothly.
That notwithstanding, it is important to state that the project remains uncompleted. The construction of the second bridge over River Wouri is whole network of projects and sub projects. Simply widening the bridge will not completely do the trick. Authorities are aware of this. That explains why contracts were conceived for the rehabilitation and renovation of access roads to the bridge. Work is going on and will see the light of day any moment from now. It is when this must have been completed that one would say with confidence that the project on the second bridge over River Wouri has been finalized. As for now, traffic remains dense. This however is logical. In-lets and out-lets are smaller and are unable to contain the traffic flow on the new bridge. This state of affairs is sending sentiments of worry in many minds, some of which are already questioning the raison d'être of a new bridge if this will not step down traffic.
The construction of the second bridge over River Wouri is a serious milestone though considering its socio-economic importance. In effect, the economic importance of this bridge is more than words can tell. It does not only link the Littoral Region with the South West, West, and North West Regions that are very productive as far as agriculture is concerned. It links West Africa to Central Africa epitomized by the fact that Douala is the entry port to Central Africa. In other words, it is a link between the ECOWAS countries and the CEMAC countries.