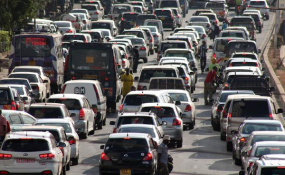 Photo: Dennis Onsongo/The Nation
By Victor Kiprop
The continued development of mixed-use real estate projects, which integrate commercial, residential and retail space in Nairobi could reduce commute time and solve one of the major problems facing East Africa's largest city, according to a report by real estate consultancy Knight Frank.
The Global Cities 2018 Report says that developers in Nairobi have resorted to mixed-use projects which offer adequate parking, convenience and the live-work-play concept, placing Nairobi among cities where such schemes are reducing time spent navigating through road traffic.
The live-work-play lifestyle concept is fast gaining popularity across major cities, bringing homes, offices, shops and recreational facilities closer to each other. This concept, according to Knight Frank Kenya managing director Ben Woodhams, is driven by the need to cut back on the hours spent in traffic.
Advanced markets
"Nairobi, like many regional hubs in emerging markets, has a rapidly expanding population and the city's infrastructure is struggling to keep pace. One challenge that this creates is traffic, meaning that a large amount of time is spent sitting in the numerous tailbacks that occur in and around the city," Mr Woodhams said.
The report cites recent developments such as Garden City, The Hub, and Two Rivers Mall which have high quality shopping malls with blocks of high-end apartments and offices under construction, helping Nairobi emulate cities like London, San Francisco and New York where mixed-use projects are relatively advanced.
Globally, the study notes a growing focus by city authorities and private developers to create true mixed-use environments that provide facilities for seamless living, working and leisure.
"This process has been encouraged by shifts in economic activity, for example the redevelopment of former industrial and dockland districts near city centres, and the intense competition between businesses as each seeks to attract and retain talent," the report adds.
Traffic jams in Nairobi cost the country at least $20 million, according to government statistics while user data aggregator website Numbeo ranks the city as the second-worst in the world in terms of road traffic congestion.
According to the traffic index, Nairobians spend an average of 62.44 minutes in traffic every day ahead of Jakarta's 56.98 and Manila (56.77).