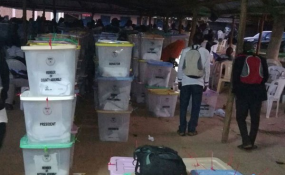 Photo: Mathias Ringa/Daily Nation
By John Ngirachu
The Dubai company printing ballot papers for next week's repeat presidential election says it has finished printing 18 million papers, 90 per cent of the job.
Lakshmanan Ganapathy, General Manager of Al Ghurair Printing and Publishing, told a delegation sent to monitor the job that the first batch of the ballots should be in Kenya by Saturday night.
7 COUNTIES
These will be for the counties of Marsabit, Mandera, Wajir, Garissa, Isiolo, Tana River and Lamu.
The company was also asked to include Turkana in the counties that should get the papers first because of their distance from Nairobi, terrain and size.
Ganapathy said there are a few changes to differentiate the October 26 ballot papers from those used on August 8.
They are grey in colour and their serial numbers start from 30,000,000.
He said the company has also completed printing all the Forms 34A and 34B.
With the last presidential election annulled partly because of discrepancies on the forms on which the results were recorded, there is bound to be increased focus on the two forms.
There are 19 million voters and because of block printing and the need to cater for voters spoiling ballots before casting, there should be close to 20 million ballot papers.