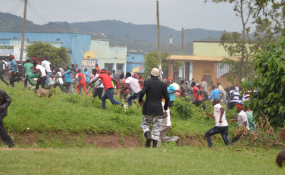 Photo: Edson Kinene/Daily Monitor
Police have stopped joint consultative meetings by members of Parliament on the proposal to amend Article 102 (b) of the Constitution.
In an October 16 message to all police stations and units across the country, Mr Assuman Mugenyi, the director operations, the MPs are supposed to only to consult in their constituencies to seek the views of their electorate.
Mr Mugenyi directed Regional Police Commanders, District Police Commanders and Officers in charge of stations to ensure that the MPs strictly consult in their constituencies only.
"Those MPs moving or intending to move in order to support counterparts or consult outside their constituencies must be stopped," the directive read in part.
Mr Mugenyi's further directed that consultations must not include illegal demonstrations, illegal processions, inciting violence, use of hate campaigns, use of abusive language, acts of hooliganism of any sort and intimidation of persons perceived to be supporting the removal of age limit.
Politicians who are opposed to the amendment of article that is intended to remove 75-years as the upper age cap for a prospective President, have been holding joint consultative rallies.
On Tuesday, police used teargas and live bullets to disperse a rally at Kasubi, near Kampala. The rally was attended by dozens of politicians and MPs opposed to the amendment.
Igara West lawmaker, Mr Raphael Magyezi tabled the Constitution amendment Bill on September 27 after two days of fist-fighting by MPs inside Parliament.
On Monday, President Yoweri Museveni warned that he would not tolerate any violence in regard to the ongoing age limit debate and that the ruling National Resistance Movement (NRM) party cannot be threatened.
Speaking on Monday at Kisiki College in Namutumba District, Busoga sub-region, during the thanksgiving ceremony for the District Woman MP, Ms Mariam Naigaga, the President said NRM is "a master at violence", except its violence is "disciplined and purposeful".