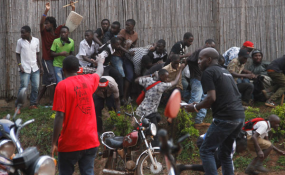 Photo: Daily Monitor
By Monitor Reporter
Kampala — The raft of instructions issued by Mr Asuman Mugenyi, the director operations, directly target members of Parliament and gives wide powers to District Police Commanders (DPCs) to deal with them decisively when found in breach.
In a message sent out to all police stations on Monday, Mr Mugenyi authorises on-ground police officers to take any and all necessary measures to regulate where and how lawmakers conduct public consultations on the proposed constitution amendment.
They include:
- MPs are banned from consulting in constituencies other than their own. Opposition lawmakers have as late as Tuesday, this week, been working and conducting public rallies in groups in eastern Uganda and Kampala.
- No illegal demonstrations. The letter does not specify what constitutes "illegal demonstrations", meaning individual DPCs will make the determination.
- Illegal processions are forbidden. Mr Mugenyi's letter doesn't specify what amounts to legal and illegal procession.
- Individuals who incite violence will be in trouble.
- No use of hate campaigns.
- No use of abusive language.
- Acts of hooliganism are prohibited.
- And no intimidation of persons perceived to be supporting the removal of age limit.
Police have tightened the rules as all MPs are due to head out to their constituencies to consult with voters on whether or not Article 102(b) of the Constitution should be amended.
Igara West MP Raphael Magyezi tabled a motion in Parliament late last month which, among other things, seeks to remove age caps as a basis of eligibility for one to stand for President or district chairperson.
Opposition leaders immediately began a countrywide campaign to denounce the move they say is calculated to give President Museveni a freehand to rule for life.
Debate over the matter has polarised Ugandans, resulted in fist-fights among MPs and an unprecedented raid by commandos on Parliament.