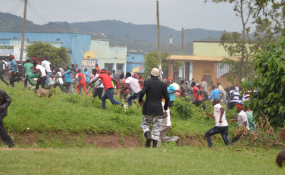 Photo: Edson Kinene/Daily Monitor
By Ismail Musa Ladu
Kampala — With the move to remove the 75-year cap for the position of the president from the country's constitution gaining momentum amidst vehement opposition, the private sector is concerned with the manner in which the political agitations could impact on the economy.
Developments coming from the political arena, according to the country's private sector, are sending a bad signal to both potential and existing investors.
"Current happenings are not a good advert for the economy. No serious investor wants to see these kinds of images (scuffles in parliament and related agitations)," Private Sector Foundation Uganda executive director Gideon Badagawa said in an interview last week.
He added: "We must learn to tolerate each other because where the political risk is high the return on investment is uncertain and that is not good for the economy and investors-whether foreign or domestic."
Mr Badagawa said what is happening in the political arena has bearing on the economy, urging the politicians to exercise restraint and be mindful of their actions.
In another interview, the executive director Federation of Small Scale Industries in Uganda John Kakungulu Walugembe said tension over the age limit Bill could render the country an unappealing destination for capital, investment and even tourism.
He said: "We don't operate in isolation. The images of our members of Parliament in a scuffle being beamed around the world are not something we would like to see for an economy like ours that is trying hard to attract capital and investment around the globe."
He continued: "Showing legislators in scuffle could be translated as intolerance and it could also mean that all is not smooth in the country. This could have an impact on the country's political risk rating and that is not what we want for our country and the economy."
Uganda Manufacturers Association (UMA) acting executive director Mubarak Nkuutu Kirunda, speaking during the just concluded UMA trade exhibition, said: "Tension has never been good for business. We would want to see this matter resolved properly because business never thrives where there is such kind of contestation.
"As manufacturers who are here for a long haul, we want this matter resolved before it begins to hit the economy and in turn hurt businesses."
According to Mr Lawrence Oketcho, an economists and policy analyst, it is difficult to detach the two-politics and economics.
And it is for this reason that the current political disagreement will undoubtedly catch up with the economy.