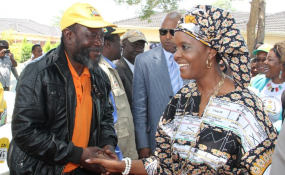 Photo: The Herald
Zanu PF legislator Joseph Chinotimba has challenged government to explain why it still subjected citizens to Rhodesian style forms of oppression through pegging fuel prices at far higher prices than those obtaining in neighbouring countries.
Speaking during Wednesday's question and answer session in Parliament, the Zanu PF MP said that fuel used in Zimbabwe was procured from the same source with that of used in Zambia but was ironically charged at more exorbitant prices locally.
He demanded answers from Energy and Power Development Deputy Minister Tsitsi Muzenda.
"Madam Speaker, fuel that we use in Zimbabwe and Zambia is procured from the same place in Mozambique," Chinotimba, MP for Buhera South, said while speaking in Shona.
"It is procured from the same area. Zambian fuel passes through Zimbabwe and goes through Chirundu Border Post and when it is there, it costs 80 cents per litre.
"Mozambique sells fuel at 50 cents per litre. We need to understand. The Minister should explain to us."
Earlier on, while answering to a similar question by Hurungwe Central MP Godfrey Beremauro (Zanu PF), Minister Muzenda said the steep fuel prices obtaining in Zimbabwe were as a result of the different taxes levied on the local product.
But Chinotimba continued: "It is not proper to say it is taxes because Zambia that passes through our place when transporting their fuel sells their fuel at 80 cents, yet we are paying $1.36 per litre.
"A liberated country like us, we should be enlightened as to why our fuel is so expensive. We are in a liberated zone and country and we also have liberated Ministers.
"They are not in Rhodesia. The question that was asked by the Hon. Member was that why is it that our goods in Zimbabwe are expensive? Are we in Rhodesia?"
In her response, Muzenda stuck to her explanation fuel prices were determined by taxes charged locally.
"It is true, our fuel is a bit more expensive compared to others in the region because we have several taxes we add to the fuel when it reaches here," she said.
Harare West MP, Jessie Majome also accused the current government of lacking any will to improve the much-talked about ease of doing business in the country.
Innocent Gonese, another MDC-T legislator, also challenged the minister to consider a review of the country's punitive tax regime "so that those taxes are reduced or removed altogether to alleviate the suffering of the people of Zimbabwe".
"The cost of fuel has a ripple effect; it also affects the cost of other commodities.
"Is it not time for her and her Ministry to consider it appropriate to review and reduce those taxes," Gonese said.
Muzenda, in her response, said taxes were under the finance ministry before deferring the answer to the Finance Minister Ignatius Chombo.
On his part, Chombo did not want to commit himself to any substantive issues but said the matter shall be considered during the soon to begin 2018 national budget consultation process.
"The issue of raising taxes is done annually and is done by the Minister of Finance and Economic Development, but the proposals are brought into this House and are deliberated on," Chombo said.
"On what he (Gonese) has said, I think he has brought this up at the right time.
"It is the time to craft the budget right now. All what he has said will be taken on board, considered during the process and we will see how we are going to address the issue."