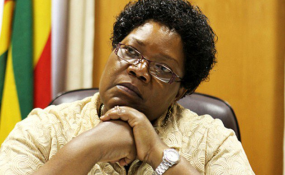 Photo: The Herald
Opposition National People's Party (NPP) spokesperson Jeffreyson Chitando is in a spot of bother after an unguarded "vendor" slur as internal ructions continue to rock the party.
Another opposition formation the Zimbabwe Transitional Alliance (ZiTA) said it was shocked by Chitando's utterances after the NPP spokesperson referred to a letter written by a disgruntled party member as: "... that is a mere vendor who is just throwing allegations and we will not be worried over pieces of paper written by vendors. ... .".
"ZiTA notes with concern that such a clumsy and careless statement if indeed was uttered is most unfortunate especially coming from a sister opposition party that must relate, understand and feel for our vending populace of this nation," ZiTA said in a stinging statement.
"The statement seems to posture vendors as less human, less sophisticated and as a people that must never be taken seriously.
"As a party founded by the vending populace among others, ZiTA takes great concern of such utterances and urges our sister party NPP to clearly and unequivocally disassociate themselves with such a statement.
"Vendors are indeed the current engine of the little that is left within the Zimbabwean economy and are playing their party in the value chain and any effort to diminish their role in society, intellect and capability must be strongly resisted."
The ZiTA statement forced Chitando into a climb-down in which he claimed even party leader Joice Mujuru was a vendor.
"I just said the letter from Muleya sounded like a letter that could have been picked up by a vendor. It is not and was never our intention to belittle vendors. There is no formal employment in this country. Even our leader Dr Mujuru is a vendor. I am also a vendor because of (President Robert) Mugabe's poor policies," said Chitando.
ZiTA's statement also slammed local government minister Saviour Kasukuwere of showing insensitivity with informal traders.
"To make this worse, just two days ago, Mr Kasukuwere, while addressing a conference and in outlining his expectation of the future caliber of local councillors also said '... . a vendor cannot just wake up and say l want to be a councillor... .' ZiTA takes exception to such off hand and insensitive statements from senior politicians. We condemn such unkind and disrespectful utterances aimed at one of the most critical sectors of our economy," the opposition party said.
"ZiTA would want to remind those in Zanu PF and maybe in NPP that most of us went to school because of our vending parents who toiled day and night to make sure their families we well catered for.
"Further, ZiTA would want to inform all and sundry that they are indeed Engineers, Teachers, Doctors, Accountants, graduates among many other professions within the vending populace and not that this defines anyone's capacity."
ZiTA led by businessman Phillemon Machana has indicated it will launch officially before the end of the year and will participate in general elections next year.