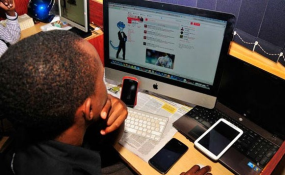 Photo: /Daily Monitor
By Abdallah Msuya
Zanzibar — MEMBERS of the Zanzibar House of Representatives have been advised to follow proper procedures when using social media and internet, particularly avoiding emotion and offensive statements.
The advice was given by officers from the Tanzania Communications Regulatory Authority (TCRA) during the legislators' seminar on 'the Cyber Crime Act 2015', of which lawmakers were educated about the law before its application extends to the Islands.
Zanzibar lawmakers learned about the law, why it was introduced, its challenges in implementation in the Mainland, differences between types of crimes under the law, and ethical behaviour even when online or social media.
"You are expected to observe ethics, even when you are attacked, do not respond using offensive language because you may also be committing a crime," said Dr Philip Filikunjombe, a Senior Legal Officer at Tanzania Communications Regulatory Authority.
Gracing the seminar, the Speaker of the House, Mr Zubeir Ali Maulid, told legislators that they need to understand the Cyber Crime Act and communicate the message to their respective electorates to minimize offences committed when using the fast growing online and social media.
The term cyber crime refers to a variety of crimes carried out online, using the internet through computers, laptops, tablets, internet-enabled televisions, game consoles and smart phones.
'Tanzania's Cyber crimes Act 2015' makes provisions for criminalising offences related to computer systems and Information Communication Technologies; provides for investigation, collection and use of electronic evidence.
The law already being enforced in Tanzania Mainland is not fully operational in Zanzibar and the lawmakers here often push for the Act to be extended to Zanzibar so that criminals in the islands can be arrested and charged.