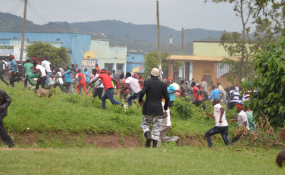 Photo: Edson Kinene/Daily Monitor
By Perez Rumanzi
Ntungamo — The opposition Forum for Democratic change (FDC) president Gen Mugisha Muntu has said the current situation in the country has exposed "President Museveni's greed for leadership."
Gen Muntu said he fought closely with Mr Museveni in the bush war to make Uganda a better nation but he (Museveni) has disappointed him and other bush war heroes.
He was speaking during his meeting with delegates from districts of Mitooma, Bushenyi Rubirizi and Ntungamo at Embassy tours hotel in Ntungamo town on Wednesday.
"We fought together but the one we fought with has his own agenda. His true colors have come out. The bible says we shall see them by the fruits. He has undressed himself vividly. He is now completely naked. We (Opposition) must organise and ensure that when we come into power, we don't do the same things," Gen Muntu said as he campaigned for the party presidency for the second term of office.
He was accompanied by the Kiira Municipality MP Ibrahim Ssemuju Nganda and former Jinja Municipality East MP Paul Mwiru.
While he concentrated much on issues of internal politics in the FDC, Gen Muntu said president Museveni was in sheer "panic of democracy like a man can fear a lion," the reason he is currently ordering that MPs move alone while holding consultaitive meetings in their respective constituencies.
"What about us who want to move like a party? President Museveni is in panic of democracy like a man can fear a lion. How can you tell MPs to move alone when consulting in constituencies?" he asked.
He said with many voices coming up against age limit even in areas where the opposition has never been heard, there is much hope that only a "shameless Museveni can push further for amending the constitution."