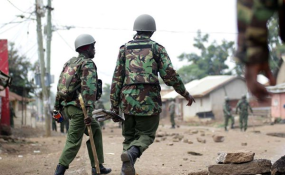 Photo: Tonny Omondi/Daily Nation
By Fred Mukinda
Police have put in place fresh security arrangements aimed at protecting voters and election officials before and during October 26 presidential poll.
Spokesman George Kinoti said due to the prevailing political situation, new threats have been identified and fresh hotspots mapped out.
He said officers will now be on look for attack on voters, people preventing others from voting, blocking roads to polling stations and attack on election officials.
RIOTING
Other offences include preventing transportation of voting materials as well as rioting and destruction of government and private property.
"All those risks have been appreciated and are factored in the reviewed operational plan. Police anticipate such attacks would be in isolated places. Security measures are in place in readiness for any eventuality. Any threat will be mitigated by ensuring action is taken before it happens," Mr Kinoti said.
He added: "Before any disruption, any plans against the polls will be forestalled. Police will ensure security for all polling officials as well as materials at the stations and distribution centres."
Earlier this week, officials of the Independent Electoral and Boundaries Commission who training for the polls were attacked in Kisumu and Siaya counties.
ATTACKERS
Mr Kinoti said the attackers were riding on motorcycles.
"Police officers managed to rescue the officials and investigations into the incident have been launched. Officers have therefore been directed to take firm action against anyone or groups of persons attempting to interfere or prevent IEBC officials from carrying out their lawful duties."
The spokesman said Kisumu and Siaya, as well as parts of Nairobi and Mombasa counties have been identified as electoral hotspots.
"We wish to warn against any harassment, threats, intimidation or any unlawful interference with any IEBC official amounts to a breach of the law, both under the Elections Act and the Penal Code," Mr Kinoti said.
The new threats were identified when senior police commanders met to review elections preparedness at the Kenya School of Government.
POLITICS
The commanders reviewed the earlier plan that was applied in the August 8, General election and agreed to include new measures and change deployment plans due to the change in political environment.
The opposition Nasa has maintained that elections will not take place while the ruling Jubilee has asked its supporters to turn out in the repeat poll and vote for President Uhuru Kenyatta.
The earlier plan paid attention to areas prone to terrorism and banditry as they likely to face election disruptions in August.
Hateful and inciting statements on social media are also on security agencies' radar, in August and during the repeat polls.
Like in August, Inspector General of police Joseph Boinnet is expected to gazette special police officers to boost numbers of law enforcers who will be deployed in hotspots.
He has a 100,000 - strong Services at his disposal and the figure and he is mandated by law to pick special officers from the Kenya Wildlife Service, Kenya Forest Service, Kenya Prisons and the National Youth Service.
The new operational plan has since been adopted by commanders in the counties.