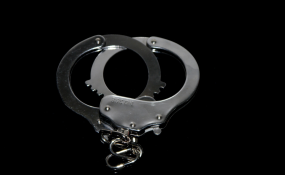 Photo: Pixabay
A Harare maid has landed in the dock after she allegedly teamed with police officers and a boyfriend to rob her former boss.
Jessica Maria Aurthers and her accomplices made off with gold worth $262,000, US$10,000 in cash and $11 000 worth of bond notes which was being kept in the ceiling of the complainant's Borrowdale home.
Two of the accomplices who were identified as Innocent Mureri Moyo and Melody Musengezi are police officers attached to the ZRP Commercial Crime Unit (CCU).
Also accused is one Blessmore Sibanda and Aurthers' boyfriend Steven Moreley Hann. Another claimed accomplice only identified as Chidemo is still on the run.
The gang was nabbed after Sibanda took a selfie while inside the complainant's house and posted it on Facebook.
Prosecutor Sebastin Mutizirwa claimed that Aurthers, who once worked for the complainant as a maid, supplied the conspirators with information on where the complainant kept his money and valuables.
She reportedly gave the information to her boyfriend Hann who then came up with a plan to raid the property together with Sibanda, Moyo and Musengezi.
The cops - Moyo and Musengezi - then applied for a search warrant using a fake reference number.
Court heard that on October 7 this year, Sibanda, Moyo, Musengezi and Chidemo proceeded to the complainant's house in Borrowdale.
Upon arrival, they met the complainant's son Dillion Wigill and demanded to "search" the property but Wigill became suspicious and refused to let them in.
One of the gang then assaulted and threatened to shoot him after which the group ransacked the house, stealing US$9,980, and $11,000 worth of bond notes as well as 4,781 grammes of gold.
After the raid, the group took the loot to Aurthers' home for safekeeping. They later collected the booty and went to Bulawayo where Hann and Sibanda reside.
According to prosecutors, Hann later sold the gold on the black market.
Meanwhile, Aurthers and Hann were released on $500 bail each while their accomplices were granted $100 bail each by Harare magistrate Josephine Sande.
They are being represented by Harare lawyer Admire Rubaya.