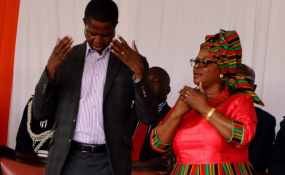 Photo: Zambia Reports
By Clement Malambo
President Edgar Lungu led hundreds of congregants at Nkana Stadium during the National Day of Prayer and Fasting commemoration.
And National Democratic Congress party founder Mwenya Musenge was among the attendees at the National Day of Prayer and Fasting in Kitwe.
Meanwhile, the National House of Prayer will auction autographed football jerseys for Lionel Messi and Christiano Ronaldo at their October 27 fundraising venture.
President Lungu told the gathering that he had planned not to speak at the event to take away the political flavour at the event but backtracked at short notice.
He said that he had told his advisors that he was not going to speak so that the event is not seen in political light but surprised himself by opting to speak.
"I have to start with a confession that I did not intend to speak here today to avoid the event being labelled political. I had a long discussion last night with my supervisors and I prevailed upon them that I was not going to speak but I am surprised that I am here," he said.
President Lungu thanked the members of the opposition political parties that had attended the gathering.
He reiterated that Zambia will remain a Christian Nation under his stewardship.
And Bishop Joshua Banda who is the National House of Prayer Board chairperson said that a high level fundraising dinner will be hosted on October 27 where top Barcelona officials will be present with Messi and Real Madrid's Christiano Ronaldo's autographed jerseys going to be auctioned.
story 1 of 1This year's National Day of Prayer and Fasting was hosted under the theme Repentance, Promoting Peace and Reconciliation, Consolidating National Unity and Diversity.
All provincial centres commemorated the day with government officials leading the celebrations.
In 2015 President Lungu declared the day an annual event listed as a national holiday.
The opposition United Party for National Development shunned the event alleging that it is a political exhibition of the ruling Patriotic Front.
Political pariah Miles Sampa was also part of the National Day of Prayer and Fasting in Kitwe.