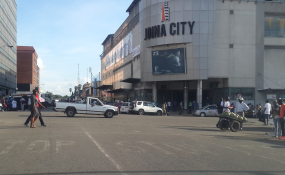 Photo: Jerry Chifamba/AllAfrica
The MDC-T led Harare City Council is set to come up with a drastic domestic and business licencing rates cut in its 2018 budget amid signs the main opposition looks to put its politics right ahead of crucial elections next year.
This is according to the 2018 Harare budget recommendations which have been approved by full council.
Among some of the highlights is the scrapping of interest that has been accruing from outstanding rates owed by domestic consumers as well as a 50 percent slash on water rates charged on commercial entities.
Reads the document, "That interest on all domestic consumer accounts be written off upon fulfilment of the terms and conditions of an agreed payment plan;
"That fixed water charges be removed for all domestic consumers.
"That fixed water charges be reduced from the current US$50 to US$25 for industrial and commercial customers.
"That property tax for commerce and industry be reviewed downwards by 15 %.
"That all business licencing fees be reduced by 15 %.
"That all market fees be reduced by 15 %."
The planned rate slash comes at a time the country is gearing for the 2018 elections.
In 2013, then Local Government Minister Ignatius Chombo pulled a shocker when he decreed the scrapping of all outstanding rates owed by rate payers to the country's local authorities from 2009 to 2013.
The populist directive infuriated Zanu PF opponents as it came on the eve of the 2013 harmonised elections.
Government was adamant the move was necessary as it ostensibly relieved poor rate payers of the burden of paying steep rates allegedly imposed unfairly by MDC-T urban authorities which are still reeling from the effects of the impromptu payment reprieve.
Meanwhile, Harare Mayor Bernard Manyenyeni confirmed the rate slash but denied it was an election gimmick.
Manyenyeni told NewZimbabwe.com Wednesday night that the move was triggered by some "reality checks particularly poor collection efficiency all-round".
"We were getting more and more bookish with $709m debtors. We stand to write-off over $30m; interest practical not populist," he said.
"Both domestic and commercial ratepayers are battling under a failed economy."
The MDC-T top official said the fixed water charge had been challenged by those who have had low supplies and through the "class voice" by one Hardlife Mudzingwa of Community Water Alliance.