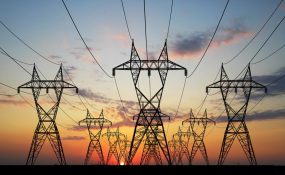 Photo: Premium Times
By Ndakaziva Majaka
A South Korean delegation is in the country doing market research on bankable power projects, with the aim of initially investing in a 100 Megawatt (MW) plant, The Financial Gazette has learnt.
Zimbabwe, which currently generates about half of its electricity requirements from its aged plants, is seeking to draw private funds into the power sector, although the country's hostile investment environment has dissuaded many potential independent power producers.
Mirae Electric Company president, Ahn Joong Shik, said while his company was looking at a bigger long-term investment, it was still in the initial stages of meeting relevant government officials and assessing its prospects locally.
Mirae Electric Company specialises in the manufacture of electronics, generators as well as power plant construction.
"In future, we are looking at bigger technology like we have supplied LG Electronics back home, but this is still the initial stages, so we cannot disclose much except that our interests are in power generation and possible exportation of that power," Shik said.
The South Korean businessman said while Zimbabwe was notorious for policy inconsistency, which has been blamed for the country's poor foreign investment inflows, his company was optimistic about investing in the country.
"Zimbabwe has power problems and we offer a cheap alternative in the form of solar powered electricity generation. At this stage, it is not really about where the investor comes from; Zimbabwe just needs someone to invest in this field and this is what we want to do," he said.
In South Korea, Mirae is a major partner of electronics giant, LG Electronics, and has developed various technologies for the company.
"We want to invest little in the beginning and develop trust and a relationship with government to ensure our investment is safe then we will invest more and discuss a way of providing alternative power for Zimbabwe," Shik said.
While Zimbabwe presently has three major solar projects in the pipeline, they are hanging in the balance on the back of acute funding challenges.
Energy deputy minister Tsitsi Muzenda last week told the Senate that the $202 million Gwanda Solar Project, the Munyati and Bulawayo-located Insukamini projects were all in need of funding to take off and help the country plug a power deficit.
"There is Gwanda, Munyati and the other one, all those projects were supposed to be on course by now, but funding has been our greatest problem. You are aware that most of what is supposed to be used, the solar panels and so forth are imported so the capital outlay is quiet massive," Muzenda said.
The Africa Enterprise Challenge Fund (AECF) earlier this year announced it would avail additional funding for solar energy projects in Zimbabwe.
AECF fund consultant, Oliver Bowler, has said funding would be made available to existing solar energy projects so that they can scale-up to profitable levels.
The organisation has already made a $10 million commitment towards solar energy projects in four African countries including Zimbabwe this year. Bowler said the fund would provide grants of between $250 000 and $1,5 million for the development of different solar projects.