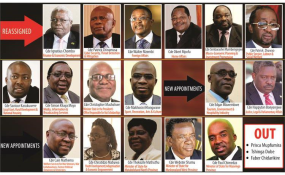 Photo: The Herald
By John Kachembere
President Robert Mugabe's most recent Cabinet reshuffle has been roundly panned by critics, who believe it will not arrest the accelerating economic slide, but the move has been cheered by an unlikely source - Sudan.
The northern African nation, which recently had its two-decades long economic and trade sanctions lifted by the United States, believes the appointment of Walter Mzembi as Minister of Foreign Affairs would help strengthen economic ties between Sudan and Zimbabwe.
"We have been trying to reach out to Zimbabwe for the past few years to no avail," Sudan's deputy ambassador to Zimbabwe, Rida Osman, told The Financial Gazette.
"There are five bilateral agreements that we sent out to the Foreign Affairs Ministry on political consultation, mining, justice, information and cultural exchanges, but we did not get any responses," he said.
Osman noted that had the agreements been operationalised, the Sudan, with a gross domestic product of nearly US$100 billion, would have assisted Zimbabwe during last year's drought with food.
"It is our hope that the recent Cabinet reshuffle will result in a review of the two countries' relations," he said.
He said Zimbabwe and Sudan shared a long history dating back to the liberation struggle.
Market watchers say Zimbabwe/Sudan engagement is fundamental in that it does not only promote diplomatic relations but creates an interdependent system between the two countries with massive potential for economic development.
Given the recent lifting of the majority of sanctions and with the impending lifting of the remaining sanctions, Sudan offers unique investment opportunities and a welcoming business climate for the resources sector and the agricultural industry among many other sectors.
Sudan is an emerging investment opportunity offering access to one of the few internationally untouched markets.
Sudan embassy counsellor Nasreldin Omran said the country, which is expected by the International Monetary Fund to register a 3,6 percent annual growth rate until 2020, has always been known for its abundant natural resources such as gold, oil, gas, chrome, manganese, zinc, aluminium, cobalt, and nickel.
Gold production in Sudan reached 22,3 tonnes in 2016, ranking as one of the top producers in Africa.
With the majestic Nile River running through it, Sudan has more than 150 million hectares of arable land. The climate is suitable for all types of crops, and water irrigation is readily available.
The country specialises in cereal production -- sorghum, millet, wheat, corn and rice -- and also grows cotton, sugar, peanuts, sesame, gum Arabic and tropical fruits and vegetables.
"As Africa's third-largest country and bordering seven countries, Sudan offers great opportunities for investment in the transport sector," Omran said.
Several economic giants such as China, India, Malaysia and Saudi Arabia have invested heavily in Sudan.
Meanwhile, Osman said Mzembi was better placed to negotiate with the West for the re-integration of Zimbabwe into the international system.
"Zimbabwe should initiate talks with the United States. This is the only way the sanctions imposed on your country can be lifted. Without transparent discussions between the two nations, Zimbabwe will not be able to create a normal and constructive relationship with the United State of America," he said.
United States President Donald Trump administration's recently lifted an embargo on Sudan after a 16-month diplomatic effort.
The United States first imposed sanctions on Sudan in 1997, including a trade embargo, for alleged human rights violations and terrorism.
Washington added more sanctions in 2006 for what it said was complicity in the violence in Sudan's Darfur region.