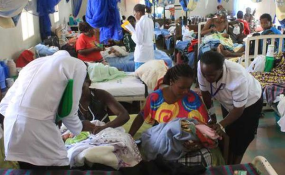 Photo: Joseph Kanyi/Daily Nation
By Bruhan Makong
Fifteen women have died while giving birth in Wajir County since the onset of the nurses' strike.
Nurses have been on strike for 136 days since June 5.
NURSES' STRIKE
In an interview with the Nation, Wajir County Chief Officer of Health Noor Sheikh Mohamed said that some of the women lost their lives in various private hospitals and other while giving birth at home.
But those hospitals do not have sufficient skilled medics and equipment, he said, adding that some women gave birth at home as they could not afford private hospitals.
The Chief Officer said that some private hospitals only have a capacity to accommodate one pregnant woman at a time and thus it is impossible to attend to all the women, compared to the Wajir Referral Hospital that has enough equipment and personnel.
"We carry out an average of nine to 15 deliveries per night in the referral hospital because of the availability of personnel and equipment. However, due to the nurses' strike, some of the patients were forced to seek assistance elsewhere," Mr Mohamed said.
RECALLED
The nurses' strike in the county at some point led to a closure of the referral hospital, including the maternity wing, for more than a week in August. More than five pregnant women died that week.
The paediatric unit was also closed during the period, locking out children from receiving medical assistance.
Nursing officers and other heads of different department who are not allowed to strike were recalled to the hospital to handle emergency services.
"Currently the services have resumed in the hospital and we are carrying out emergency and outpatient services. The paediatric ward, maternity unit and male ward is now functional," Mr Mohamed said.