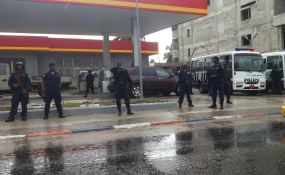 Photo: Boakai Fofana/AllAfrica
The Liberia National Police (LNP) is warning protesters and would-be protesters against demonstrations and/or marches in public place emphasizing that there will be no room for violators.
A statement quotes Police Inspector General Gregory Coleman as saying the New Liberia National Police Act of 2015, indicates that prior to the holding of any special event in the form of demonstration, March or similar event in the public place, the organizers must notify the County Attorney in the County where the event is to take place.
"Where the event is to take place in Montserrado County, the Minister of Justice must be notified of said special event not less than Seven (7) days before the date of that special event," Coleman stressed in a statement released late Tuesday.
According to Section 22.86 under the title Maintenance of Public Order of the Liberia National Police Act, "Any person who desires to hold any special event in the form of demonstration, march or any form of protest or similar event in any public place shall notify the County Attorney in the County where the event is to take place of his or her intention not less than seven days before the date of the special event." Additionally, Section 22.86 (b) emphasized "Where the special event is to be held in Montserrado County, the notification shall be sent to the Minister and consultations require by this section shall be with the Inspector General of Police."
In further reference to the Police Act of 2015 under Section 22.86 (d), Coleman quotes the section as stating "Where the County Attorney, in consultation with the head of Police in the County, has reasonable grounds to believe that the special event, if held may lead to violence or endanger defense, public order, public safety, public health or the running of essential services or violate the rights and freedom of another person(s), he or she shall report the matter to the Minister and request the organizers to cancel or postpone the special event to any other date or to relocate the special event.
The Police Chief warned that no individual or group of individuals will be allowed to violate the law with impunity. Coleman further warned that during this electioneering period, nobody should tamper with the peace of Liberia.
There have been threats of demonstration at the headquarters of the National Elections Commission (NEC) by supporters of some political parties.
They are claiming election fraud and irregularities, but the Police Chief told this paper Wednesday that LNP will not tolerate violence.
He called on citizens to make use of the law as enshrined in the New Police Art of 2015 by seeking permission for any march or demonstration.
"Our people should stay away from violence. They should not disturb the peace," Inspector General Coleman warned.