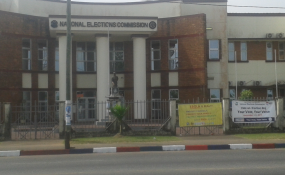 Photo: Boakai Fofana/AllAfrica
Five legislative candidates in Bong County have filed separate complaints to the National Elections Commission (NEC), raising concerns over the conduct of the October 10 elections.
The candidates include Silas Siakor and Amos Kornumugie of District #5, Andrew Tehmeh of District #7, Susannah Mator and Lester Paye of District #4.
In District #4, Mator and Paye alleged that election workers took bribe from Unity Party (UP) candidate Robert Womgbaie to increase the number of votes in his favor.
Candidates Paye and Mator also raised concern about one of the ballot boxes that was transported over motorcycle from Shankpala to Gbarnga.
For candidates Siakor and Kornumugie, they are requesting that the NEC re-conducts the election at the David Feijue Precinct in Gbartala in order to allow hundreds they claimed did not vote on Tuesday due to disruption at precinct the opportunity to vote.
Among other issues, candidates Siakor and Kornumugie accused Lower Bong County Election Magistrate Barsee Kpangbai of sleeping in the same house which hosted Representative Edward Karfiah on Election Day which, according to them, afforded Karfiah the opportunity to exercise undue influence over the election process at the David Feijue precinct.
But Magistrate Kpangbai told the Liberia News he never slept in Gbartala on Election Day and warned the candidates against "making unsubstantiated claims."
In District #7, Tehmeh and his campaign team are requesting the NEC to recount the votes because of the questionability of the 64votes difference between him and Kolleh.
Meanwhile, the NEC magisterial offices in Gbarnga and Totota have acknowledged receipt of the candidates' complaints and assured them of the commission's commitment to investigate the matter.