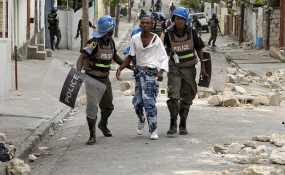 Photo: Irin
Brazzaville — The stability and security in the member countries of the International Conference on the Great Lakes Region (CIRGL) is to dominate the 7th Summit of Heads of State of Government of the organisation.
The meeting will be marked by the transfer of the ICGLR chair from Angola to the host country.
The Angolan head of State João Lourenço is expected to address the meeting's opening ceremony to reaffirm the country's commitment to regional stability and development and assess the work done during the two running terms at the head of the organisation since 2014.
President João Lourenço is also to formally hand over the ICGLR leadership to his Congolese counterpart, Denis Sassou Nguesso.
Behind closed-doors, the heads of State are to review the security situation in the region, particularly in the Democratic Republic of Congo (DRC), Central Africa Republic, Burundi, South Sudan and Sudan.
The heads of State and Government are also to review the measures in place to prevent the use of mineral resource to finance conflicts in the region.
The creation of more jobs for the young people with a view to ensuring their social and economic integration is also on the agenda.
The organisation's budget for the next two years and the special fund for regional reconstruction and development are also on the agenda for the 7th CIRGL Summit taking place under the theme "Fast-Tracking the Implementation of the Pact to Ensure Stability and Development in the Great Lakes Region".
The CIRGLs groups Angola, Burundi, Central Africa Republic, Congo, Democratic Republic of Congo, Kenya, Uganda, Rwanda, Sudan, South Sudan, Tanzania and Zambia.