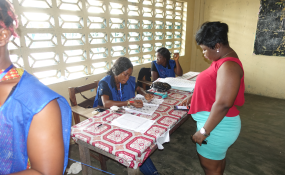 Photo: Boakai Fofana/AllAfrica
By Bettie K. Johnson Mbayo
Monrovia — Cecelia Dahn, 33, a Plantain Chips seller from West Point registered to vote in March but when it came to casting her vote last Tuesday, October 10, she stayed home.
Out of a total 2.1 million registered voters, only 1.6 million cast their votes in the first round of Liberia's historic presidential and legislative elections. What kept thousands of voters from the polls and how will it impact the run-off?
Dahn is one of nearly half a million Liberians either denied the right to vote or simply chose not to participate.
"I did not go to the polls because I had plenty things to do."
Liberia, a nation of 4.1 million inhabitants only registered 2.1 million voters in March but the total number of voters who actually cast their ballots last week was a mere 1,641,922, meaning 542 did not cast their votes.
The National Elections commission voter registrants statistics show that 2,183,683 registered, with females: 1, 062,733 (49%) males: 1, 120,950 (51%), 18 year-old 1 08,485 while the average age of 35.
Philomena Brown 21 and first time voter but did not vote because she said her candidate could not win.
"I am a supporter of Mills Jones and I know he cannot win so I chose not to go on the voting queue and this second round I would not vote."
Like Philomena, Justin Clarke 45 did not vote, "I have my serious things to do for my family so I did not vote, what is the essence of going to vote when the people are the same?
Clarke, a father of four says he could not vote last Tuesday because he had to cater to his children as his wife was busy selling provision to upkeep the family.
Randall Johnson, 38, was one of hundreds in line at the Demonstration School voting precinct but laments that he could not vote because his name was not on the voter roll update.
"I was discouraged when I when to vote because I was the back of the queue but as soon as I reach to the entrance of the center they told me that my name was not in the book so I left to find my daily bread."
Johnson is unsure whether he will vote in the November 7 runoff but says he hopes the elections commission would publish the voter roll in various areas.
Mr. Johnson adds that the commission should also do jingles to educate citizens on how to vote.
Jessica Dunbar, a mother of three, who makes a living selling roasted fish at the end of Johnson Street, says she did not vote because the polling center was overcrowded.
Dunbar, 38, says she went on the queue but was inpatient.
"I was on the line but then I am a single mother so I left to find food for my children, what they will give me when they win," she asked.
The experience of the first round is forcing Dunbar to stay away from the polls in the runoff as she says that she too had issues with the voter roll. If it is not updated, she says, she will stay away from the runoff.
Jessica explained that she was also discouraged to vote because of the experience of some of her friends, who stood on the line but could not find their names and were told by poll workers that they had to restart another line.
"So, I got vexed and I left to find food for my children."
With so many Liberians disgruntled, disappointed and discouraged, the runoff elections on the horizon is poised to present a major challenge for the National Elections Commission.
Already, a lot of noise is in the air regarding the outrageous number of invalid votes in in this year's election although not far from the votes in 2011, which produced 82,074 compared to 88,574, 5.4% this year.
With the final numbers announced Thursday, George Weah Coalition for Democratic Change has 596,037 for 38.4% while Joseph Boakai of the ruling Unity Party accumulated 446.716 for 28.8%.
According to the National Elections Commission, an average of 75 percent of eligible voters cast their ballots.
The turnout number is not higher as compare to President Sirleaf re-election in 2011, when 38.6% of eligible voters cast ballots--or 2005 presidential election, which saw just 61.0% percent turn out to the polls--and the 2017 75.19%.
The Constitution of Liberia article 83b requires that a candidate should have 50% +1 of the total number of votes cast in the given election.
In 2005, 825,716 (61.0% of registered voters) turnout to vote during the first round, Unity Party Ellen Johnson Sirleaf had 192, 326 which amounted to 19.8%.
Congress of Democratic Change now Coalition for Democratic Change (CDC) George Weah had 275,265 which came out to 28.3 % there was 20,144 invalid votes with 20,144 polling centers.
During the runoff Sirleaf had 478,526 of 59.4%, Weah had 327,046 amounted 40.6% while the turnout was 1,012,673- 74.9%, with 38,883 invalid votes.
A total of 19 candidates who contested the 2005 election of which President Sirleaf emerged as the winner with 59.4% over Weah who had 40.6%
Sirleaf triumphed during the first round in 2011 with 530,020, 43.9%, Cllr. Winston Tubman of Liberia National Union(LINU) went as standard bearer to CDC who accumulated 394,370- 32.7%, with 82,074 invalid votes and 4,457 polling centers. 1,206,642 turn out during the first round.
Ironically, there were no invalid votes in 2011 runoff as Sirleaf tallied 607,618 for 90.7% while Tubman tallied 62,207 amounting to 9.3%, the turnout then was 1,288,716 of 74.9% voters.
With so much at stake, the upcoming runoff battle between Senator George Weah and the incumbent vice president may come down to who is likely to convince fatigued voters to come out to vote.
Historically, statistics have shown that numbers from the first round of voting usually decline in the second round.
The key for both candidates could boil down to breaking a trend in the next few days that could make or break their quest for the Liberian presidency.