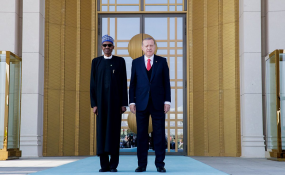 Photo: BashirAhmaad/Twitter
By Johnbosco Agbakwuru
Abuja — President Muhammadu Buhari Thursday said that the international media should be commended for their 'constructive coverage' of the July 15, 2016 failed coup attempt in Turkey.
The President who stated this in Ankara, Turkey, at a meeting with the Speaker of the Grand National Assembly of Turkey, Ismail Kahraman, hailed the courage of the people of Turkey for defending democracy in the aftermath of the unfortunate incident of July 15.
According to the statement signed by the Senior Special Assistant to the President on Media and Publicity, Laolu Akande "The international media helped the world in trying to understand what really happened (on July 15) and what the government is doing."
Reiterating Nigeria's solidarity with Turkey after the failed attempt to oust a democratically-elected government, the President said Turkey's assumption of the Chairmanship of the D-8 from tomorrow, October 20, will afford both countries the opportunity to work together on economic, security and political issues.
The statement further said that the President told Turkey's parliamentary leader, before leaving for Istanbul for the ninth D-summit that following the fruitful talks with President Recep Erdogan earlier on Thursday, both countries were optimistic of improved cooperation in strategic areas as soon as talks were finalised between their officials.
He said after the meeting with Kahraman, President Buhari visited a part of Turkey's Parliament building damaged by a bomb during last year's coup attempt, and laid a wreath at the site of one of the damaged areas.
The President then made an unscheduled appearance at the Turkish Parliament in session and his presence drew a loud applause when the Presiding Officer acknowledged him.