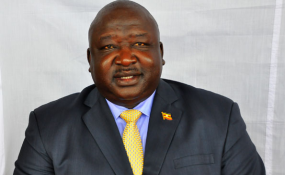 Photo: Daily Monitor
By Risdel Kasasira
Kampala — Uganda has stopped transaction with and also expelled representatives of a North Korean company that deals in exportation of arms.
The Foreign Affairs ministry said it was complying with the UN Security Council Resolutions that imposed sanctions on North Korea for developing nuclear weapons.
A letter from the ministry dated September 15 to the North Korean Embassy in Kampala said the representatives of the Korea Mining Development Trading Corporation (KOMID) were directed to leave the country.
"Accordingly, the government of Uganda has undertaken a number of measures, including any dealings with a sanctioned entity - Korea Mining Development Trading Corporation (KOMID) - and demanded withdrawal of its representatives in Uganda," the letter read in part.
Under UN resolution 1718, all member states are required to prevent any direct or indirect supply, sale or transfer of arms to North Korea.
Based on Article 25 of the UN Charter, Uganda as a member of the United Nations is under obligation to enforce the resolution.
The two officials have been identified as Yu Kyong-Jin and Jong Kuk-Chol. The State Minister for International Relations, Mr Henry Okello Oryem, said yesterday that the KOMID representatives were expected to leave the country after the letter.
"I don't know whether they have left. But they got the notice through the embassy," he said.
KOMID, a state-owned company, has offices in several countries around the world and facilitates sale of weapons for the North Korean government.
Mr Oryem said Uganda will continue updating the UN on the measures it is taking to comply with the UN resolutions.
Last month, Uganda said it would also not renew the contracts government had signed with North Korea to train UPDF soldiers. In 2015, Uganda was listed among the top five countries across the world that had close ties with North Korea.